Students have reacted with outrage after Cardiff University built a stainless steel cage to deter homeless people from sleeping next to hot air vents outside a campus building.
The cage was spotted by journalism student Lewis Hopkins, who wrote on his blog he was "disgusted and ashamed" by the university - something he added he "never thought I would feel".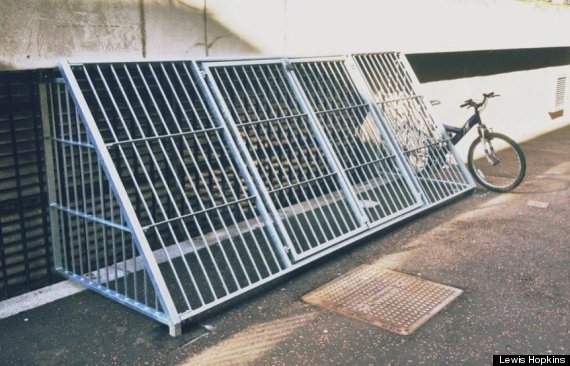 The cage installed by Cardiff University
According to Hopkins, the cage has been installed outside the Sir Martins Evans building, a bio-chemistry block located between Park Place and Museum Avenue.
@HPUKStudents@cardiffuni Cages installed months ago! Used to see the homeless people there every morning and they never caused any trouble.

— Dom D (@dom_d_) October 9, 2014
Anti-homeless cage just installed next to a warm vent at Cardiff Uni. Doesn't it make you proud to be British? 😷 pic.twitter.com/TH6UEA4ofN

— Dylan Harvey (@DylanHarvey__) October 9, 2014
A spokesperson for the university said: "The area covered by the safety grilles are not hot air vents but boiler flue vents that can potentially produce products of combustion - diluted amounts of carbon monoxide being one of these - as part of the diluted boiler flue gases.
"These vents are considered safe in normal use due to the type of flue dilution system being used but there could potentially be an increased risk if people are sleeping right next to the grilles for very long periods."
The outrage over the cage parallels the reaction in June to the spikes installed outside Tesco on Regent's Street, which the supermarket giant said were to deter antisocial behaviour, and not homeless people.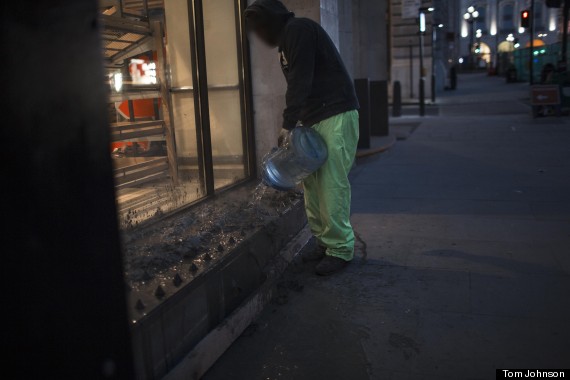 A protester pours concrete over the spikes outside Tesco Metro on Regent Street
However after the company was heavily petitioned and the area vandalised, the spikes were removed.
Spikes appeared outside an apartment block on Southwark Bridge Road around the same time. Residents said they appeared shortly after a homeless person had been sleeping there.
Imagine if you were cold and needed shelter from the rain and wind. #AntiHomelessSpikes are vile. #PeopleNotPigeonspic.twitter.com/u0xOhqo50d

— Sean Dixon (@PowerfulChicken) June 8, 2014
A spokesperson from Shelter Cymru told HuffPost UK they were not aware of any such cages being used previously as deterrents for homeless people.
"We don't think this is in quite the same order as the 'anti-homeless studs' we've seen used on some buildings as there appears to be a genuine health and safety reason here," they added.
"However, we do need to be reassured that the University is in touch with local agencies to ensure that people sleeping rough in the area are helped.
"We don't believe that you can just turn your back on people sleeping rough even if there is a genuine health and safety reason, but it this is different from using studs, which is simply trying to 'design out' the problem rather than address it."