Opposition to anti-homeless spikes being put up to prevent rough sleepers has solidified - in the form of concrete.
A row of the studs - which have been compared to pigeon deterrents - is outside a Tesco Metro on London's Regent Street, but in the early hours of this morning activists paid a visit to the store and poured concrete over them.
A Homes Not Spikes demonstration had been planned by Left Unity for Thursday, but Vice reporter Simon Childs was tipped off a different kind of protest would be occurring in the wee hours.
Scroll down for more pictures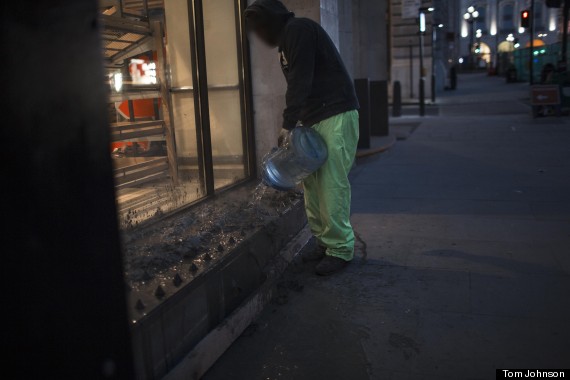 A protester pours concrete over the spikes outside Tesco Metro on Regent Street
The unnamed activists who applied the concrete to the spikes told him: "These [spikes] are in places where people are trying to find a cosy, less wet place to put their head down.
"These are places that the underclass rely on. We give [Tesco] our money and this is how they treat us."
"Homeless people are some of the most vulnerable people in society with the Tories' austerity programme," added another.
"They've cut Shelter's funding. Crisis are in crisis. There's more people on the street, more people using food banks – and you have businesses installing anti-homeless spikes. It's a really degrading way to treat human beings."
The group can claim victory however - for on Thursday Tesco announced it would be removing the spikes entirely - though the supermarket giant inferred they were not put in place to deter homeless people.
A spokesman for Tesco told Huffington Post UK via email: "Customers told us they were intimidated by anti-social behaviour outside our Regent Street store and we put studs in place to try and stop it.
"These studs have caused concern for some who have interpreted them as an anti-homeless measure so we have decided to remove them to address this concern. We will find a different solution and hope this clears up any confusion."
VICTORY! Tescos have just agreed to remove their 'anti-social' spikes from outside their Regent Street store.... http://t.co/OL5xLCgwdR

— Left Unity (@LeftUnityUK) June 12, 2014
Earlier this week rows of the spikes appeared outside an apartment block on Southwark Bridge Road. Residents said they appeared shortly after a homeless person had been sleeping there.
Emi Takehara said: "I feel really uncomfortable having these spikes in front of my home. It's like treating these homeless people like animals."
Mental Health nurser Harriet Wells has began an online petition urging Boris Johnson and private firm Property Partners to remove the spikes.
She writes: "We should be offering practical and emotional support to help the most vulnerable to get back on their feet. We should not be sending them the message that they are pests that need to be warded off.
"For those people who are not sure if they agree with this petition I would say if it is a problem for a homeless person to stay in that area, then perhaps a more human approach could be adopted – a person telling another person to move along is more humane than installing spikes.
SEE ALSO: Selfies With Homeless People Is A New Vile Trend
"Humans deserve to be treated like humans regardless of their social situation. You never know what is round the corner. Support the silent population.
At time of press the petition had nearly 115,000 of the required 140,000 signatures.
Katharine Sacks-Jones, head of policy and campaigns at homeless charity Crisis, said: "It is a scandal that anyone should sleep on the streets in 21st century Britain.
Imagine if you were cold and needed shelter from the rain and wind. #AntiHomelessSpikes are vile. #PeopleNotPigeons pic.twitter.com/u0xOhqo50d

— Sean Dixon (@PowerfulChicken) June 8, 2014
"Yet over the last three years rough sleeping has risen steeply across the country and by a massive 75% in London.
"Behind these numbers are real people struggling with a lack of housing, cuts to benefits and cuts to homelessness services to help them rebuild their lives.
"They might have suffered a relationship breakdown, a bereavement or domestic abuse. They deserve better than to be moved on to the next doorway along the street.
"We will never tackle rough sleeping with studs in the pavement. Instead we must deal with the causes."