Foreign Secretary Philip Hammond has admitted that there is nothing the international coalition fighting Islamic State militants can do to save the Syrian town of Kobane, where Kurdish fighters are battling Islamic State.
IS is threatening to overrun the poorly-equipped Kurdish defenders of the town, which borders Turkey, despite United States air strikes on the extremists' position. The latest reports from the town seem to indicate that the radical jihadists have taken a third of the town, and members of the terror groups have been photographed prowling the streets, and raising the group's black flag.
"IS control more than a third of Kobani. All eastern areas, a small part of the northeast and an area in the southeast," the the head of the Syrian Observatory for Human Rights, Rami Abdulrahman, told Reuters.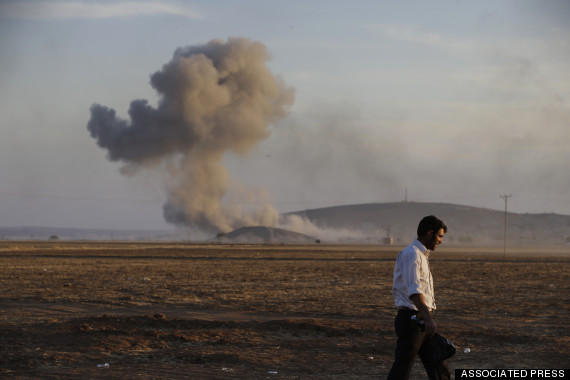 A Turkish Kurd walks away as airstrikes hit Kobane, inside Syria, as fighting intensifies between Syrian Kurds and the militants of Islamic State group, in Mursitpinar, on the outskirts of Suruc
The three-week-long battle for the town has sparked major protests in Turkey against its government's perceived inaction and US secretary of state John Kerry said he was deeply concerned about the situation.
Hammond admitted that the coalition's focus on air strikes meant there was nothing it could do to make a fundamental difference in the battle for Kobane and acknowledged the town could fall to IS.
He told BBC Radio 4's The World Tonight: "The US has implemented some additional air strikes to try and help the people who are defending Kobani but it is a very difficult situation on the ground and we have never envisaged that the coalition's intervention with air power in this battle was going to turn the tide in the short term.
"We have got to degrade Isil's military capability over time, that isn't going to happen overnight.
"So I don't want to suggest that there is anything readily that the coalition can do that will make a fundamental difference on the ground in this battle, in the tactical situation that's faced around Kobani."
He said: "Self evidently it could fall. The Americans are committed to doing what they can to support the defence the town with additional air strikes.
"But this is a long struggle here against a poisonous ideology and an organisation which has built up some very significant military capabilities.
"Although we the coalition are confident that we will win that strategic battle we cannot say with confidence that we will be able to win any specific tactical engagement."
US special envoy to Syria, former general John Allen, is to hold talks with the Turkish government of President Recep Tayyip Erdogan to establish what contribution Ankara would make to the coalition.
"Kobane could be taken. We recognize that," Pentagon spokesman Rear Admiral John Kirby said Wednesday in Washington. "Air power is not going to be alone enough to save that city."
Turkey has said it does not want Kobani to fall. The country boasts the second-largest army among NATO forces, and has stationed a handful of troops in Syria — at a memorial south of Kobane that is dedicated to Suleyman Shah, grandfather of Osman I, founder of the Ottoman Empire.
"Clearly, on their border, this is of enormous concern to Turkey and they recognise that," US Secretary of State John Kerry told a joint news conference.
"These things have to be done in a thoughtful and careful way so everybody understands who is doing what."
Both Kerry and Hammond reacted cautiously to a Turkish proposal to establish a "buffer zone" along the border inside Syria where refugees fleeing the fighting could be protected.
Hammond added: "We would have to explore with other allies and partners what is meant by a buffer zone, how such a concept would work, but I certainly wouldn't want to rule it out at this stage."
Meanwhile, the Foreign Secretary sought to reassure the US that Britain would be prepared to join air strikes on Is militants in Syria, if requested by American commanders.
Hammond indicated ministers would be prepared to go back to Parliament to seek permission to extend British military action into Syria if US Central Command (Centcom) considered it "militarily useful".
"We absolutely have not ruled out playing a role in Syria," he said. "We will require further parliamentary approval if we decide that that is the right thing for us to do. We would see this as a military question - is there a militarily useful role that UK assets could play. If Centcom commanders see a specific role for UK military assets I am sure that they will not be slow in requesting them."