Brian May reveals he was surprised by what he heard when he dug out some long-abandoned tracks for the 'Queen Forever' album, which will give fans three completely new songs featuring their lost frontman Freddie Mercury.
The band have released a trailer (see above) for the album, which contains three brand new tracks - a song they recorded with Michael Jackson, 'There Must Be More to Life Than This', a pared down version of Freddie's solo hit 'Love Kills' and a song that Brian reveals has never been heard before, because he only came upon it by chance.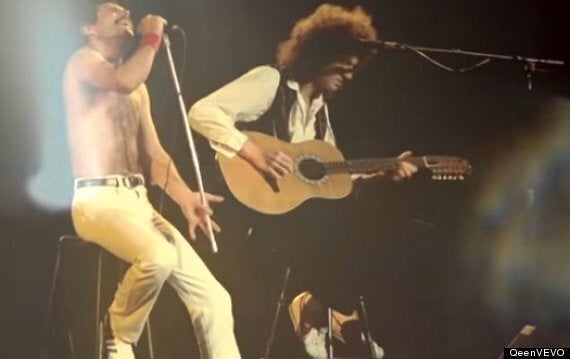 The new album will be "Queen - but pared down, not the pop and rock side," says Brian. "I like it"
"It's called 'Let Me in Your Heart Again' and it just happened to be there," he tells HuffPostUK. "It was abandoned at the time for various technical reasons, but I was able to transfer it off the analogue multi-tracks and do some repairs, so it worked from beginning to end.
"But basically you're hearing the four of us together as a band from 1984 or so, playing a song that nobody's ever heard, so that's a thrill."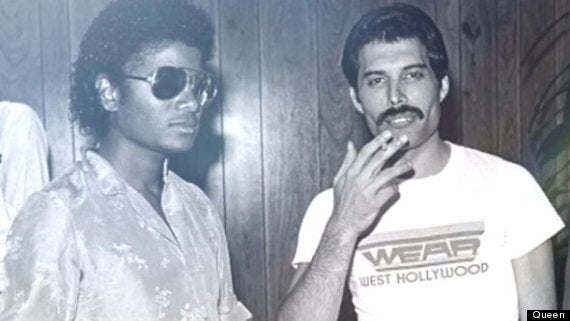 Freddie with Michael Jackson, who recorded a song with the band which will only now be heard
Brian tells me he was moved by how well the four original members – himself, Freddie Mercury, John Deacon and Roger Taylor – sounded, even back at the beginning of their decades of performing together.
"It's still surprising to hear how well the four of us played together," he marvels. "There were no clicks in those days, no fixing stuff with ProTools.
"It's absolutely naked, four musicians playing together and it really does hang together like glue. I feel quite proud of us in those days."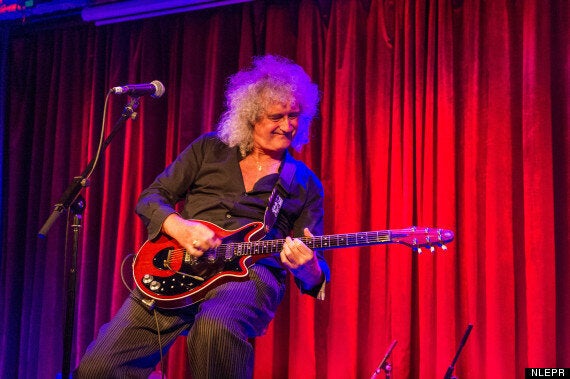 Brian May and his Red Special - still loving it, four decades on
These songs, as all of Queen's ridiculously deep well of an archive, will feature the distinctive sounds of Brian's homemade guitar, the Red Special, and we're chatting ahead of the launch of a brand new book all about the long journey he and his guitar have been on, beginning with the day he and his father got together to build it. Its nickname 'the Fireplace' comes from the fact that the wood on the neck came from an 18th century fireplace, just one of many idiosyncrasies lending the instrument its renown.
"I was 16 at the time, and we made it because we couldn't come close to affording a guitar," Brian remembers.
"Telecasters and Stratocasters were way in off in the stratosphere, and English copies were still beyond my budget. So we decided to make it better than anyone else's.
"Everything I've ever done, with the exception of 'Crazy Little Thing'. Every track and every concert, I've used it."
Brian points to some of the unique aspects of the guitar in his hand. "I hacked these bits out myself, as we couldn't afford any kind of power tools in our house."
This could be a moment straight out of 'This Is Spinal Tap' but, if anyone's allowed to channel Nigel Tuffnell, it's probably Brian, whose tireless enthusiasm for music and performing will be tested when the band take to the road once again in January – "physically and mentally it's all-consuming once you're on tour, that's your life, you've said goodbye to the home shores. You have to love it, otherwise you couldn't do it."
It's the presence of Adam Lambert on vocal duties which has undoubtedly given Queen this fresh shot in the arm, something Brian is all too happy about.
"Adam is just very natural, very real, with an incredible voice," is how he describes it. "That's a voice in a billion, it's extraordinary."
After more than four decades spent writing, touring, performing guitar duties on everything from Buckingham Palace roof (the Queen's Golden Jubilee) to the recent 'God Only Knows' BBC Music collaborative, and with a bundle of other projects to keep him entertained, Brian could be forgiven for downing tools and picking up his telescope, except he still blatantly enjoys the whole thing. As he puts it, "Music is the first love, and has given me the power to do everything else."
This is clearly evident as he takes me on another tour of the guitar, teaching me something about tremolos, a roller bridge, the strings coming through at a shallow angle – it's all in the book, musicoes – and finally, the HQ of that Queen sound, the frets – all 24 of them – down at the twangy end, where solos happen.
"Well, you want these little bits," explains this enduring Bohemian. "They come in handy."
Brian May's Red Special, by Brian May with Simon Bradley, Carlton, £19.99, Out now
'Queen Forever' goes on sale from 10 November. Tour info here.
Related