Are you thinking of going on holiday? Tired of scrolling through online booking agencies? Looking for a travel agency with a bit more... va va voom?
Then look no further, Thorne Travel is the agency for you.
Described as "Alan Patridge-esque", the glorious advert for the independent travel agent is set to go viral after it recruited a 1,000-strong flash mob to dance to Swedish House Mafia in the small Scottish town of Kilwinning in North Ayrshire.
Storming through the town in formation, the agency's "pink ladies" go about their usual business of "making peoples holiday dreams come true" - all to a pumping beat, stunning visual effects and epic slow-mo shots of high-heeled feet.
"It's a spoof of the Virgin advert," Christina Haywood, assistant manager at the firm told the Telegraph, "but we know we don't look like them, don't worry."
The result is a one-of-a-kind promotional video featuring a sailor, a bride and a cruelly discarded Mickey Mouse toy... and it's absolutely incredible.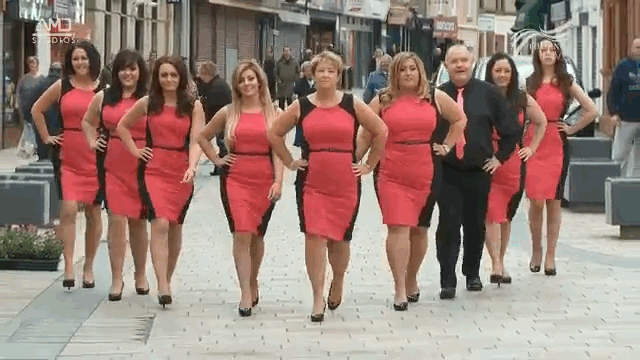 Thorne Travel Advert 2014
The owner of the agency, Shona Thornem has revealed that the point of the advert is to show off the agency's personality within the close-knit town.
"We're known locally as the pink ladies, because of our pink uniforms," she told TTG Digital. "Our customers used to say, if people could just see you, they'd know how different you are."
"It started off as a wee small video, but now it's an all-singing, all-dancing proper advert, about us, our town and how it has supported us," she said.
The advert also captured the attention of the local Ardrossan Herald newspaper, which called for the public to give their views on the now viral clip.
Popular in the Community