Oscar Pistorius has no interest in continue his glittering athletic career after his murder trial has finished, but may want to work in a school, according to his psychologist.
Pistorius is a celebrated athlete who was the first double-amputee to compete in the Olympics. He won two gold medals and set two world records in the 2012 Paralympics.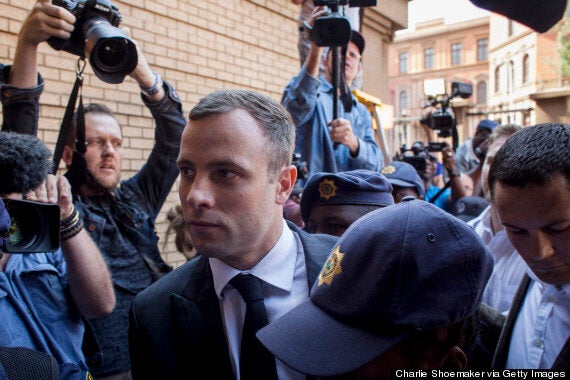 Pistorius arriving at the court today
His sentencing begins today could last for a week. His punishment could range from a suspended sentence and a fine to 15 years in prison.
The International Paralympic Committee has already said it would have no objections if Pistorius chose to compete again.
But Pistorius's psychologist, Dr Lore Hartzenber, said under cross-examination that he has never expressed any desire to continuing a sporting career after the trial, the Guardian reported.
"We took one day at a time," Hartzenberg said.
Hartzenberg said the only thing Pistorius is interested in doing is working in a school in Mozambique that his uncle is linked to.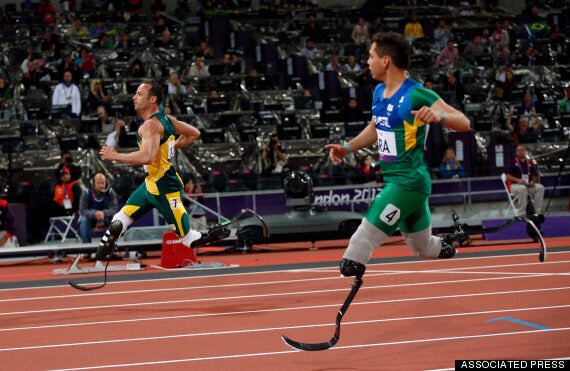 Pistorius was a world-famous athlete before Reeva's killing
She added that Pistorius is a "broken man" after killing girlfriend Reeva Steenkamp because he lost the woman he said he loved as well as his reputation, friends, income and sense of self-worth.
Hartzenberg said the double-amputee runner had sometimes cried, retched, perspired and paced up and down during meetings in which she tried to assist him.
Her testimony was part of an effort by the runner's legal team to persuade Judge Thokozile Masipa that Pistorius has suffered emotionally and materially for what he said was an accident and that he is remorseful.
The team hopes the judge will be lenient when she sentences Pistorius after what is expected to be about a week of legal argument and testimony.
"We are left with a broken man who has lost everything," Hartzenberg said during her testimony.
Prosecutor Gerrie Nel criticised her findings, saying Pistorius would likely have the chance to rebuild his life.
Several police officers stood guard on the dais where the judge sat amid concerns about her security. Masipa drew criticism from some South Africans who thought Pistorius could at least have been convicted of a lesser murder charge on the grounds that he knew a person could die when he fired four bullets through a toilet door in his home early on Valentine's Day last year.
Story continues below video
Steenkamp, a 29-year-old model, died in the hail of bullets, and prosecutors said Pistorius had opened fire in anger after the couple argued. The runner testified that he mistook Steenkamp for an intruder who was about to come out of the toilet and attack him.
Hartzenberg, who described herself as an expert in trauma counseling, said she first met with Pistorius on 25 February last year, 11 days after the shooting death of Steenkamp, and had been counselling him since then.
"Some of the sessions were just him weeping and crying and me holding him," Hartzenberg said, describing Pistorius as overcome with grief and guilt that he had caused Steenkamp's death.
She said the shooting and Pistorius' lengthy and high-profile murder trial meant the athlete had also suffered severe loss.
He had lost Steenkamp, his "moral and professional reputation," many of his friends, his career and his financial independence, she said. "I can confirm his remorse and pain to be genuine," she said.
Popular in the Community