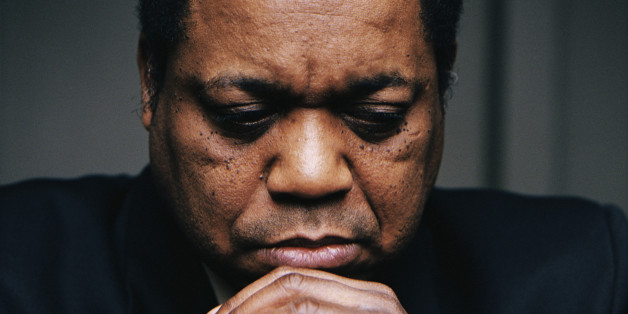 Giantstep Inc via Getty Images
Last Friday was World Mental Health Day - and what a success it was.
The day was, in our opinion, great for busting mental health myths and getting people talking (on social media at the very least) about mental health and the stigma that surrounds it.
Our Twitter feeds were full of inspirational people - young and old, male and female - sharing their experiences of mental health. There were even tweets from sufferers of schizophrenia, depression and anxiety.
So, naturally, we've compiled some of the tweets that really stuck with us.
Here's what we can all take away from #WorldMentalHealthDay...
SEE ALSO:

Schizophrenia - Stuck With It?

How A Healthy Diet Could Help Fight Depression, According To Dietitians
#1 Always remember: you're not alone.
Hey, as someone who had depression and suffers from anxiety, always remember that others are suffering #WorldMentalHealthDay

— Curtis Arnott (@Takahata101) October 11, 2014
#2 Speaking out about your experiences can help others, too.
Thank you for the amazing response to my @bbcgetinspired article. Love being back on the track & hopefully my story will help others!

— Jack Green (@jackpgreen) October 10, 2014
#3 Mental illness is more common than you think.
According to Mind, 1 in 4 people in the UK will experience a mental health problem each year.
Today is #WorldMentalHealthDay. So important to be talking & acknowledging just how common - and absolutely normal - mental illness can be.

— Rosalind Jana (@RosalindJana) October 10, 2014
#4 Asking for help is not a weakness.
By seeking help you can begin to move on with your life.
No matter what the misinformed say, you can't simply CHOOSE to make mental illness go away. It is NOT cowardly to suffer or seek help.

— Zelda Williams (@zeldawilliams) October 10, 2014
Thanks to the NHS, I went from daily panic attacks & having to leave my job to having a career of sorts as a writer #WorldMentalHealthDay

— The Vagenda Team (@VagendaMagazine) October 10, 2014
#WorldMentalHealthDay today. Can't overstate the importance of positive mental health. Everyone can help someone & everyone deserves help.

— Ben Moran (@benmoran5) October 12, 2014
#5 Be nice to everyone.
You don't know how they're feeling on the inside.
Today is world mental health day, be kind to everyone you see. You just don't know what's going on in people's lives.

October 10, 2014
#6 People who suffer with mental illness might not look like they do.
In this case, the pain isn't visible. But that doesn't mean it's a myth or it's made up - it's very real.
Mental health IS as important as physical health, & whether there are visible signs or not, the suffering is real. It can affect EVERYONE.

— Zelda Williams (@zeldawilliams) October 10, 2014
#WorldMentalHealthDay We'll be tweeting all day in support & to help end stigma. This is no myth or weakness, just not all pain is visible.

— SelfEsteemTeam (@_SelfEsteemTeam) October 10, 2014
#7 Anyone can develop a mental illness.
Regardless of gender, religion, education, sexuality or age.
Mental health disorders, like any illness, know no rhyme or reason. They can't be appeased by money or fame. #WorldMentalHealthDay

— Samantha Shannon (@say_shannon) October 10, 2014
It doesn't make you any less of a man. It's ok not to be ok. #letstalkaboutit #worldmentalhealthday http://t.co/09sK6VsW0K

— Fagol (@fearghalsmyth) October 12, 2014
#8 There are still those who stigmatise mental health.
This is why we need World Mental Health Day and other mental health-related awareness days, to help overcome this.
We need #WorldMentalHealthDay because when you try and explain your illness, people laugh in your face because they don't know how to deal.

— Becky (@MrsBeBe_) October 10, 2014
#9 The time to change mental health stigma is now.
Not tomorrow or the day after that, not next month or next year. Now.
Here and Now, we must change somehow - please retweet #hereandnow4mentalhealth #worldmentalhealthday #nightline

October 10, 2014