The sanitisation of British football has become so unappealing it is estimated 1,000 English fans travel to watch every Borussia Dortmund home match.
Lauded as one of the last truly romantic clubs on the continent, Dortmund boast the highest average home gate in world football (80,291) and the Westfalenstadion's captivating Gelbe Wand (Yellow Wall), which houses 25,000 supporters in the south stand, has emerged as one of European football's great sights in recent years.
"We jump on the Channel Tunnel train," Matthew Gerrard, from Kent, told the BBC. "We make a weekend of it. With tickets, accommodation, transport, this trip will cost £65. When you think it cost me £51 to see the Arsenal game last season, you can see the benefits."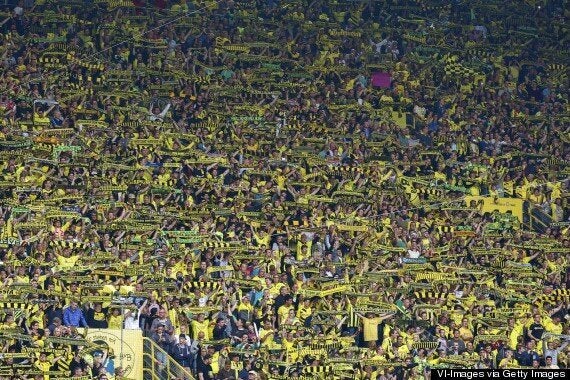 Dortmund's "Yellow Wall" is one of the great European football sights
Unglamorously located in the Bundesland of North Rhine-Westphalia, Dortmund has compensated for its lack of sights with the team's renaissance under coach Jürgen Klopp. Bundesliga champions in 2011 and domestic double winners the following year, Borussia reached the 2013 Champions League final in an all-German contest with Bayern Munich.
The team, now bereft of Robert Lewandowski after he followed Mario Götze south to Bayern Munich, has lost four of its opening seven Bundesliga games and is facing a third consecutive trophyless campaign.
However, Dortmund's lure goes beyond the team. Signal Iduna Park is revered across the continent and the club has begun conducting stadium tours in English.
The BBC's annual "Price of Football" investigation has also revealed ticket prices outstrip the cost of living, with the cheapest match ticket increasing by 13% since 2011, compared to a 6.8% rise in the cost of living.