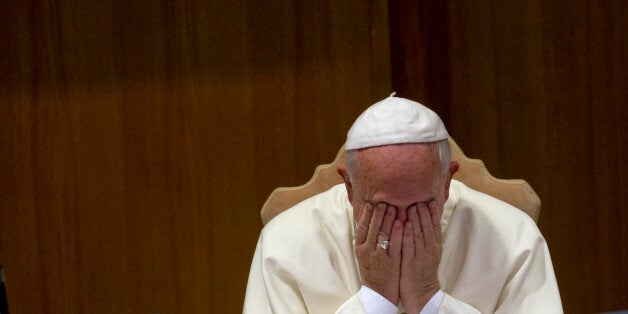 Less than 24-hours after the Catholic church seemed to finally be modernising its attitudes towards homosexuality, senior bishops have hastily reminded the world that being gay is still "unacceptable."
In news that will undoubtedly leave equality groups sighing in exasperation, conservative bishops distanced themselves from the Vatican's unprecedented opening toward gays and divorced Catholics earlier this week, calling it an "unacceptable" deviation from church teaching that doesn't reflect their views.
Monday's report - released during a Vatican meeting on such hot-button family issues as marriage, divorce, homosexuality and birth control - had signalled a radical shift in tone about welcoming gays, divorced Catholics and unmarried couples into the church.
It was a message of almost-revolutionary acceptance and understanding rather than condemnation. Gays, it said, had gifts to offer the church and their partnerships, while morally problematic, provided gay couples with "precious" support.
But on Tuesday, conservative bishops distanced themselves from the document insisting it was a "working document" and was never intended to be a statement of church doctrine, but rather a reflection of bishops' views that will be debated and amended before a final version is released on Saturday.
Still, its dramatic shift in tone thrilled progressives and gay rights groups, and dismayed conservatives already deeply uncomfortable with Francis' aim to make the church a "field hospital" for wounded souls that focuses far less on the rules and regulations emphasized by his two predecessors.
Now it seems that a fight for the soul of the Catholic Church has broken out, with increasingly alarmed conservatives being pitted against more progressive bishops emboldened by Pope Francis' vision of a church that is more merciful than moralistic.
Several conservatives who participated in the synod immediately distanced themselves from the report. The head of the Polish bishops' conference, Cardinal Stanislaw Gadecki, called it "unacceptable" and a deviation from church teaching.
South African Cardinal Wilfrid Fox Napier said the report didn't reflect the opinion of the synod in its entirety and contained problematic positions. He hoped the final report "will show the vision of the synod as a whole and not the vision of a particular group."
"My worry is that the message has gone out — and it's not a true message — that this synod has taken up these positions, and whatever we say hereafter is going to be as if we're doing some damage control, which is certainly not what is in my mind," he told reporters.
Hard-line American Cardinal Raymond Burke, the head of the Vatican's supreme court, told Catholic World Report that the document contained positions "which many synod Fathers do not accept and, I would say, as faithful shepherds of the flock cannot accept."
He accused the Vatican press operation of releasing "manipulated" information about the synod debate that didn't reflect the "consistent number of bishops" who opposed such a tone.
Now, the Vatican has highlighted areas that will be debated in the coming days. In a summary of bishops' reactions, the Vatican press office said bishops had "appreciated" the report but that some offered additional reflections "to bring together various points of view."
These bishops suggested that the final document highlight faithful Catholic families to avoid "a near-exclusive focus on imperfect family situations."
On gays, they said "prudence" was required "so that the impression of a positive evaluation of such a tendency on the part of the church is not created."
"The same care was advised with regard to cohabitation," they said.
The bishops noted that the word "sin" barely appeared in the document at all and that the final document must better explain the "law of gradualness" — a theological concept that encourages the faithful to take one step at a time in the search for holiness.
Bishops are concerned that an emphasis on that concept can lead to confusion about whether Catholics really must follow church law to the letter on hot-button issues like contraception.
Popular in the Community