Nigel Farage has appeared on BBC Radio 4's World At One to address the furore surrounding the controversial Ukip Calypso song - and give it his backing.
So does the Ukip leader think former Radio 1 DJ Mike Read's track, which sings the praises of the anti-EU party and its leader, is racist? "No of course it's not", Farage replied.
"Look. C'mon Mike Read has worked for the BBC for several decades, he's one of your corporation's biggest star's and he's made a calypso song and as he said himself, if he was doing a Bob Dylan song, he'd do Bob Dylan's accent," he said.
"It is meant to be a bit of fun," the Ukip leader concluded.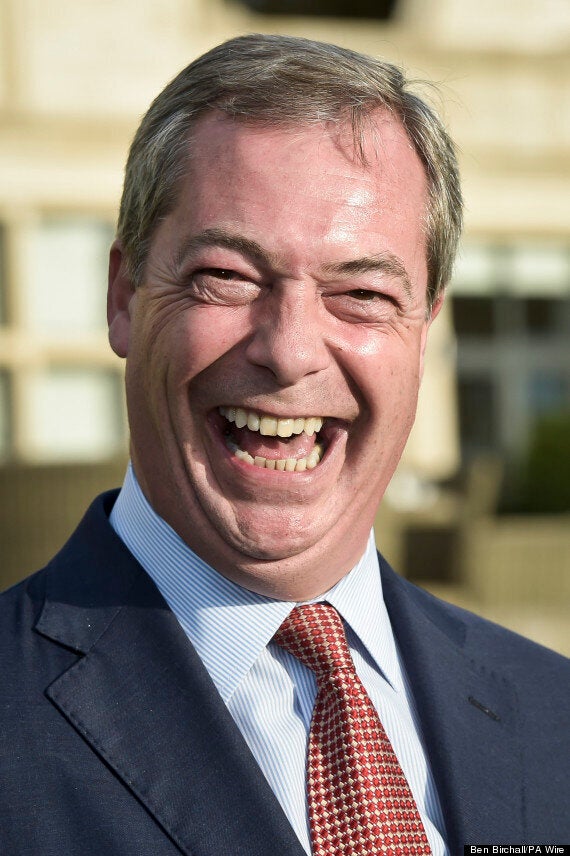 Farage has defended the song
Responding to accusations that some black people find it patronising, Farage said "Those that want to find offence, will do in life."
Farage's response to the outrage surrounding the controversial song was rather more measured than that of Ukip's "commonwealth spokesman" Winston McKenzie, who last night stepped in to defend the Calypso song in what was arguably the most utterly bizarre Newsnight segment in the show's history.
McKenzie, who failed in his bid to get elected as a councillor in Croydon after calling his own constituency "a dump" - got into a heated debate last night with DJ Nihal from the BBC's Asian Network, who did well not to walk away from the farcical argument.
Discussing Read's track, the Ukip spokesman told presenter Evan Davis he thought Read was "good man… it's crazy'"
Denying that the track is racist, Winston said: "From ever since the beginning of time, the Beatles, Elvis, the Rolling Stones - they've taken up the black man's music."
"Now when I heard this song for the first time, I thought to myself 'a white boy singing calypso - fantastic," the former professional boxer and motivational speaker added.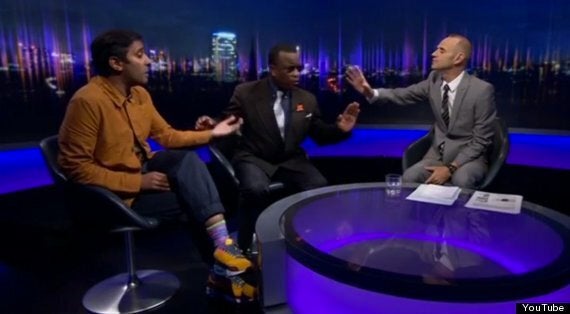 As Nihal spluttered in horror, Winston, who also fancied his chances of reaching pop stardom on ITV talent show the X-Factor in 2005, said that he hopes Reed will now join him for a duo.
"I can sing the white song, he can sing the black song," he said.
In stark contrast to Winston's infatuation with Read's track, Nihal said that his initial reaction was "that it made my ears vomit."
"It was the naffest I have ever heard," he said, to which a furious Winston exclaimed "get out of here! Come on my man! Get real!"
Telling Winston to "calm down for a minute", Nihal tried to explain that most of the listeners on the BBC's Asian network said they would not vote for Ukip as it is seen as a racist party - a claim not helped by Reed's song, he added.
"It's a joke, a poor joke," Nihal argued. "Have you got Noel Edmonds singing Land Of Hope And Glory," he asked as the debate descended into Winston repeating "Listen to me, listen to me. Listen. Listen."
Launching into a tenuous argument about how Ukip isn't racist, Winston explained: "This all stems from the PCC [sic] brigade and the media, y'know we have got to walk away from this thing, grow up and be sensible."
As Nihal tried to intervene, any illusion of decorum from the Ukip spokesman disappeared as Winston shouted: "My man be quiet" warning "don't get shirty with me man."
As Davis desperately tried to calm the situation, and failed, the interview thoroughly disintegrated into farce as Winston denied he would "mix with racists" by pointing at a knitted fox badge on his jacket.
"This fox is Nigel Farage," he says. "This is the Ukip fox that's come to lay down the policies that people want, that all the people off Britain are screaming."
Nihal, resigned to his fate, sat back in exasperation as Winston repeated that Read's song is "fantastic" and "good luck to him."
Somewhat unsurprisingly, the discussion sparked an internet frenzy with viewers saying the debate made them want to "just go and die quietly in a corner."