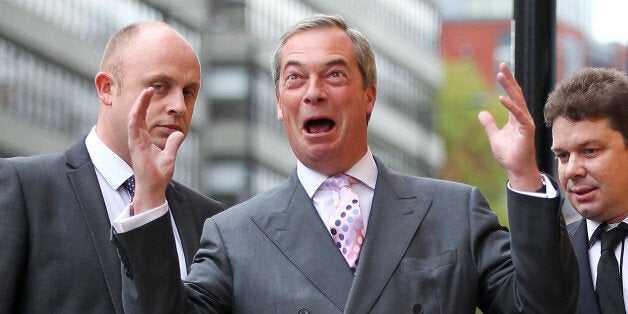 Nigel Farage has defended his decision to form an alliance with a party in the European Parliament that is led by a man who has denied Hitler was aware of the Holocaust and does not believe women should be allowed to vote.
The Ukip leader said he had no choice but to recruit Polish MEP Robert Jaroslaw Iwaszkiewicz to his eurosceptic Europe of Freedom and Direct Democracy (EFDD) group, as if he had not all 25 Ukip MEPs would have been left without a voice in the Strasbourg parliament.
The EFDD had been on the verge of collapse due to a lack of numbers. If it had been forced to disband, Ukip would have lost around £1m in funding as well as committee and speaking slots.
In May, Iwaszkiewicz made a joke about wife beating, telling a Polish newspaper that it might "help bring many wives back down to earth". He later insisted he was merely joking.
Iwaszkiewicz's party in Poland, the Congress of New Right, has four MEPs. Only Iwaszkiewicz has joined Ukip in the EFDD, but the party's leader, MEP Jorun Korwin-Mikke, is deeply controversial.
He believes that women should not be allowed to vote, was also investigated over provocative comments about rape and was accused of using racist language in the European parliament. He also suggested Hitler did not know about the Holocaust. A monarchist, Korwin-Mikke believes that democracy is the "stupidest form of government ever conceived".
Farage told the BBC's World at One programme today that without bringing Iwaszkiewiczm on-board, Ukip MEPs would be silenced. "All of us in the European Parliament have to make compromises to make sure our voice is heard," he said.
"We find ourselves in a very difficult position. It's difficult because my job is to try and represent the party that came first in the European elections. Those voters want us to have a voice in this parliamentary assembly."
Farage said he had never met Korwin-Mikke. And pressed on Iwaszkiewicz's comments about beating women, Farage said: "I think that particularly comment was a joke." He added: "I have found nothing in this guy's background to suggest he is a political extremist at all".
Farage also said if given the choice between being consigned to the "outer darkness" unable to speak, or doing a deal with an a "known prominent extremist", he would "not do that deal".
Dr Eva Neitzert, Deputy CEO at the Fawcett Society, told the Huffington Post UK: "At a time when, on average, two women in England and Wales are murdered by their partners each week, violence against women is no joking matter. It is extremely concerning that Ukip is aligning itself with players in Europe that are displaying such flagrant disregard for the welfare and rights of women.
"In addition to Iwaszkiewicz's deeply offensive jokes about beating women and children, the leader of the Congress for the New Right – Iwaskiewicz's party – has previously declared that women should not have the right to vote. With women's suffrage a battle won nearly 100 years ago, these views really do belong to a different era'."