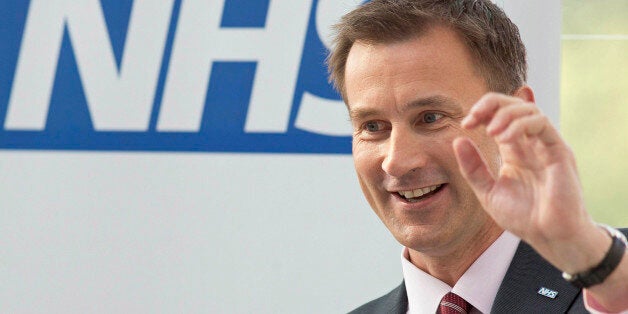 Jeremy Hunt has been accused of having "no interest" in the National Health Service's future amid reports that his department may sell off its main supplier of temporary staff.
NHS Professionals, which has around 40,000 nurses, doctors, midwives and other healthcare workers on its books, had a "very real possibility" of being sold, a source told Sky News.
Christina McAnea, head of health at the UNISON trade union, told the Huffington Post UK: "The Government's plan to sell off its own NHS recruitment agency makes no sense. NHS Professionals was set up because private companies were ripping off hospitals by charging outrageous fees for recruiting or finding staff for shifts.
"The Government has no interest in the future of our National Health Service. And their obsession with selling it to the private sector has no limit. Bit by bit, they are exploring options to break up the service. This dangerous experiment will only result in a fragmented system that will put the future of the NHS at risk."
According to NHS Professionals' 2013 annual report, it bounced back from a £6.7m loss in 2009-10 to become profitable, going on to make an aggregated profit of £10.8 million since then.
A spokeswoman from the Department of Health later said: "To make the NHS safer and more efficient we want to improve the way it uses temporary staff and reduce its reliance on expensive agency workers.
"We have commissioned a study looking at a range of options, including the future of NHS Professionals, which we [will] carefully consider before making any decisions."
"A reckoning for trashing the public's most prized asset without their permission," he went on. "And a reckoning for the ruinous reorganisation that has dragged it down and left it on the brink."
Meanwhile, Hunt defended the government's handling of the NHS in a speech to Tory activists, arguing that using providers from outside the health service helped ensure public money was well spent.
'We mustn't stop new ideas that come from outside the NHS – whether from charities or, yes, the independent sector,' he said.