A taxi firm is offering customers white drivers to those who request them after it was embroiled in an infamous child grooming scandal that involved Asian men.
Two drivers of Asian descent, who worked for local minicab firm Eagle Cars in Heywood in the Greater Manchester borough of Rochdale, were among those convicted of sexual offences after a long trial that exposed a gang that had abused nearly 50 girls.
Mohammed Amin was convicted of sexual assault and was given a five-year prison sentence while Abdul Aziz was convicted of trafficking for sexual exploitation, received a nine-year sentence.
They were two of nine men convicted in 2012 after a long, complex trial.
It has been revealed that Car 2000, which acquired the now-defunct Eagle Cars, is now offering customers white drivers, after many of them began asking for "locals" when booking cabs.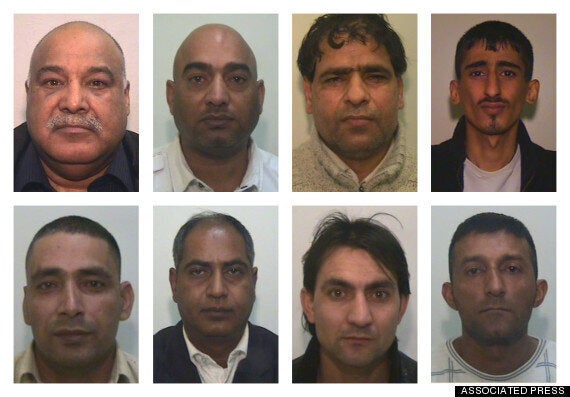 Mohammed Amin (top row, second from left) and Abdul Aziz (top row, third from left) and the other Rochdale men convicted of sexual offences
"We have had quite a lot of customers requesting what they call a 'local' driver. A bit insane if you consider that most of the (Asian) lads were born in Rochdale," manager Stephen Campbell told The Guardian.
"But it's a business and we have got a duty to do what the customer asks us to.
"I don't think we can discriminate against the customer in the same way. It is a business at the end of the day. We have a large bank loan to pay back."
The local council said it was taking legal advice as to whether their policy broke the terms of its licence.
Mark Widdup, from Rochdale Borough Council, told The Huffington Post UK: "Any private-hire business must satisfy a 'fit and proper' test before they are licensed by the council and able to operate within the borough.
"While we have not had any complaints regarding Car 2000 up to this point, we are now taking legal advice as to whether their policy to offer white drivers contravenes the 'fit and proper' test, and will act accordingly depending on the outcome of that advice."
Campbell said he tried to convince people to take any driver.
He told The Guardian: "The Asian drivers are harder working, they do what they are asked and they don't complain about it. They have a much better work ethic.
"If the public could actually see (them) close up and see what they are about, I don't think they would be asking for white drivers."
A total of 60% of the firm's drivers are of Asian descent, Campbell told HuffPost UK, adding that the number of people asking for "local" drivers was around 0.5% of the calls they take and roughly the same proportion of people ask for a specific Asian driver.
He said of the policy: "We don't promote it. We'd rather people didn't ask for specific drivers. It makes our job a lot easier.
"But if we didn't offer it, someone else would. We're a private company doing something that our customers want us to do."
He added people who rang up during rush hour and asking for a "local" driver, only to be told an "Asian" one was much closer, would typically say: "Just send anyone."
He added that he did not believe the policy violated its licence.
The grooming scandals in Rochdale and similar ones other cities, including Oxford and Rotherham, have all fueled right-wing groups opposing multiculturalism and immigration.
One of Rochdale's constituencies, Heywood and Middleton, had a by-election earlier this month, in which Ukip stunned Westminster by coming second in the staunchly Labour area after running a campaign emphasising the grooming scandal and immigration.
Simon Danczuk, the Labour MP for the Rochdale constituency who has been a vocal campaigner trying to draw attention to child grooming, said the taxi firm's policy was "extremely worrying".
He told The Guardian: "This is extremely worrying and a stark reminder of the impact that grooming scandals have had on northern towns. This will not be a problem exclusive to our borough, I'm sure.
"It must act as a wake-up call to politicians who just pretend tensions like this don't exist and bury their heads in the sand."
Popular in the Community