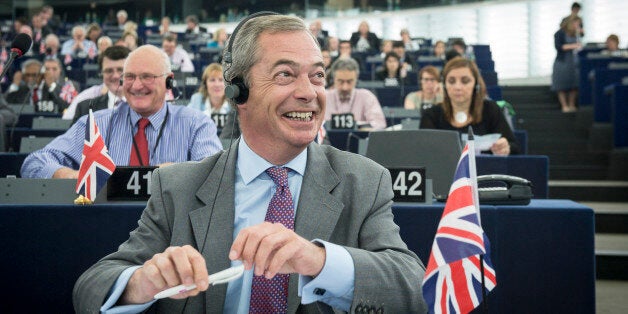 The Latvian MEP who quit Ukip's grouping in the European parliament last week has angrily rejected claims that she was blackmailed and attacked Nigel Farage's "rude" attitude.
Iveta Grigule decision to leave Farage's Europe of Freedom and Direct Democracy (EFDD) group almost caused it to collapse. It was only saved when Ukip managed to recruit a MEP from a controversial right-wing Polish party to replace her.
Farage has accused the president of the European parliament, Martin Schulz, of "effectively blackmailing" Grigule by offering her the leadership of an overseas delegation in a deliberate attempt to silence Ukip and the eurosceptic EFDD.
Groups in the European Parliament are formed to secure positions on committees, secure speaking time and receive funding. The collapse of the group would also have denied Farage, its leader, the chance to make long speeches on the floor of the parliament.
However in a statement, Grigule dismissed the suggestion she had been bribed with a position by Shulz. She said if she had simply been after a more prominent position in Brussels she would have accepted Farage's offer to become vice-chairman of the EFDD group.
"If I could be blackmailed with positions in the Parliament, then I would have taken Nigel Farage's offer to become our groups Vice-Chairman, as he offered me his seat," she said.
"Then I would have been able to attend Presidential conferences, to sit at the same table as Schulz, Weber and other leading politicians of the European Parliament. I would have had a prestigious status and been able to travel for work."
She added: "I do not find it acceptable to work in a group which has achieved a state of complete isolation, as I have not come to sit in the Parliament for a five year term. I have come here to work for the benefit of my country and of the European Union. Therefore, I made this difficult decision to leave the group.
"This summer I was nominated as Vice-Chairman to one of the most important committee's in the European Parliament-Committee of Foreign Affairs. At that time, I did not leave the group even though I was not elected, as I was hoping that the British delegations working style might still change."
Grigule said she had come to work in the European Parliament because "every EU member state can be heard-old and new, big and small", West European nations as well as East European nations. "Under no circumstances am I here to cause the collapse of the European Union," she said.
"In July this year I already suggested to Nigel Farage that he should change his working style. The fact that he did not take my suggestion into account this whole time is not right," she said.
"I do not find it acceptable that MEP's turn their backs on the European anthem or the flags of member states. I do not find shouting or rude remarks acceptable during plenary sessions, or that the majority of colleagues from Great Britain do not take part in the work of committees. I warned Farage, that if nothing changes in this attitude, I will leave the group.
"Of course, this style of working may be beneficial to Farage as his popularity in Britain grows, but to other group delegations this isolationism from the other Parliamentary groups disrupts the ability to work. This was a road leading to nowhere."
Yesterday Farage defended his decision to replace Grigule with Polish MEP Robert Jaroslaw Iwaszkiewicz. In May the right-wing MEP joked about hitting women, saying it might "help bring many wives back down to earth".
The leader of Iwaszkiewicz's Congress of New Right party, Jorun Korwin-Mikke, is also no stranger to controversy. He believes that women should not be allowed to vote, was also investigated over provocative comments about rape and was accused of using racist language in the European parliament. He also suggested Hitler did not know about the Holocaust. A monarchist, Korwin-Mikke believes that democracy is the "stupidest form of government ever conceived"