A 'drunk' passenger claimed he had bombs, threatened to 'take down' the Ryanair flight and threw lit cigarettes at fellow fliers, only restrained by several men who tackled him to the ground, according to horrified witnesses.
Passengers on the budget flight from Malaga to East Midlands airport described their terror as the man allegedly said he had three bombs, and apparently attempted to assault an elderly woman.
The man was detained by Leicestershire Police when the plane landed.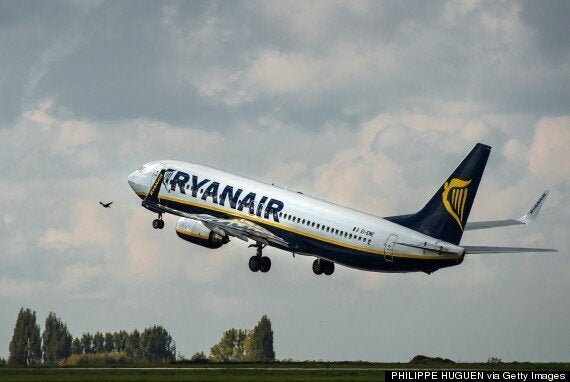 The incident happened on a Ryanair flight
Hazel Hickson, 53, of Groby, who was returning from a five-day trip to Malaga with friends and her 12-year-old son, Harry, told the Leicester Mercury the man was "making strange noises" and she first suspected him of having learning difficulties.
But the situation escalated as a couple who were sat next to him asked to move seats, and the man apparently threatened to "take down the plane" with "three bombs".
"He then started either verbally or physically abusing an elderly lady in front of him and, when her husband told him to stop, he punched him in the eye, breaking his glasses and making him bleed.
"At that point a group of seven or eight guys jumped on him and dragged him into the aisle," Hickson said. "It turned into a brawl - one was punching him and another said 'we're taking control'."
Hickson described the air stewardesses as "bursting into tears" and alleged the man had also been flicking lit cigarettes around the cabin. "If the men hadn't taken control, I think someone else would have got hurt.. It was unbelievable."
Sue Snodin, 56, of Kirby Muxloe, told the Leicester Mercury that she was going to complain to the airline as cabin staff seemed unprepared. "There was a young stewardess trying to deal with him, but she was getting really upset.
"When it was all over, the pilot came out of the cockpit, wiped his brow and asked if he had been removed, but there was no apology, nothing.
"I felt the staff were not equipped to deal with the incident and we had to endure a two-and-a-half hour flight from hell."
A Ryanair spokesman said: "The crew of this flight from Malaga to East Midlands requested police assistance on arrival after a passenger became disruptive.
"The aircraft landed normally and police removed and detained this passenger. Ryanair sincerely apologise to other customers for any inconvenience suffered on this flight. It is now a matter for Leicestershire police."
A man has been charged with common assault, being drunk on an aircraft and smoking on an aircraft, and is set to appear in court next month.
Popular in the Community