Benedict Cumberbatch is a man in demand. His fans, variously, want to know when Sherlock is returning to the small screen, demand he fill them on the details of his love life, or simply cheer when he attempts to dance like Beyonce.
In our exclusive video above, we go behind the scenes with Mr Cumberbatch on the set of 'The Imitation Game', in which he plays mathematics genius Alan Turing, a talented, troubled man who has been credited with shortening the course of World War II. but was made a social pariah for his homosexuality.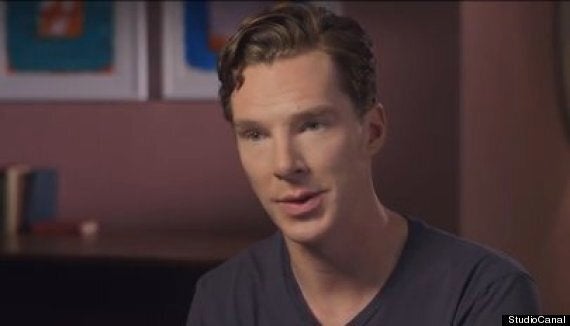 Benedict Cumberbatch is thrilled by the cast of 'The Imitation Game'
Benedict explains he spent "hours, days trying to understand" the workings of Alan Turing's fabled "bombe" machine, which sped up calculations to break the Enigma codes used by German submarines in the Atlantic during the war, and therefore saved hundreds of Allied lives.
'The Imitation Game' follows Turing and his team at Britain's top-secret code-breaking centre, Bletchley Park, during the darkest days of World War II. Turing's work is credited with significantly shortening the war, saving thousands of lives, but he suffered for being gay when homosexuality was illegal. He was the eventual victim of an unenlightened British establishment condemning him for his personal life, but his work and legacy live on.
"Alan Turing was an extraordinary man," says Benedict admiringly. "I think people will be educated, moved, stunned.. .and thrilled."
The 'Sherlock' star appears with Keira Knightley, Allan Leech, Charles Dance and Mark Strong in the code-breaking thriller, and he is admiring of the whole team, while reserving special praise for Keira, holding her own in an almost all-male cast, "I think this is the best work she's ever done."
'The Imitation Game' is in UK cinemas from 14 November. Watch the trailer below...
Related