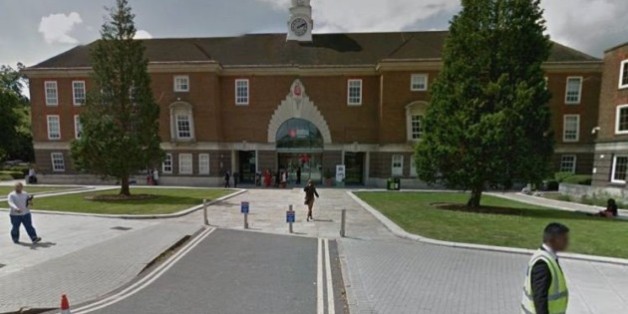 Middlesex University
A 22-year-old man has been stabbed to death in a fight on a university campus.
The victim, who is not believed to be a student, died after a fight at Middlesex University in north London shortly after 1am today.
He was taken to hospital in a critical condition and died a short time later.
Life is cruel , how can you stab someone at Uni rave.

— • (@oyinbonyash) October 31, 2014
The man's family have been told, although formal identification has not yet taken place.
😳😳😳 someone just got stabbed and they've been doing cpr for a good 25 mins 🙍🙍💔😩😩

— Neesh (@_xNeeeesh) October 31, 2014
Security was soo light with the searches as well

— Neesh (@_xNeeeesh) October 31, 2014
Detective Chief Inspector Nicola Wall said: "We are keen to hear from anyone who witnessed the incident on the university campus near the student union area shortly after 1am today.
"There was a student event ongoing before this fight took place and many people would have been passing through the area before and after the fatal stabbing.
"Anyone with information is urged to contact the incident room on 020 8785 8244 or Crimestoppers anonymously on 0800 555 111."
Fatal stabbing at middlesex uni last night. Are you joking ? What uni am I going to pls. Wow

— Deimantė (@deimsN) October 31, 2014
The senior officer said the mild weather last night would have meant several people were outside.
She said: "We are looking at anybody who was attending the function at the student union bar last night and anybody who saw anything."
Devastated at the murder in the Middlesex Uni last night .. One of the funniest guys I've met .. R.i.P

— Waleed's Dreams (@MrWaleedGudluks) October 31, 2014
A spokesman for the university said security staff dialled 999 when the fight broke out at the campus in Greyhound Hill, Hendon.
He said: "We can confirm that the university security called the emergency services to Middlesex University, Greyhound Hill, at 1.09am following reports of a fight.
"Fortunately, incidents such as these are rare at our university. However, Middlesex University takes a very serious line to violence on campus and any students found to be involved will be removed immediately.
"We are cooperating fully with the police as their investigations continue."