Have you read the big news on page 57 of today's Times?
Yes, yes, we all poured over the transcript of The Supreme Court judgment's on a judicial review of Haringey Borough Council's public consultation on its proposal to cut council tax, but the births marriages and deaths section contains this small item.
"Mr B. T. Cumberbatch and Miss S. I. Hunter. The engagement is announced between Benedict, son of Wanda and Timothy Cumberbatch of London, and Sophie, daughter of Katharine Hunter of Edinburgh and Charles Hunter of London."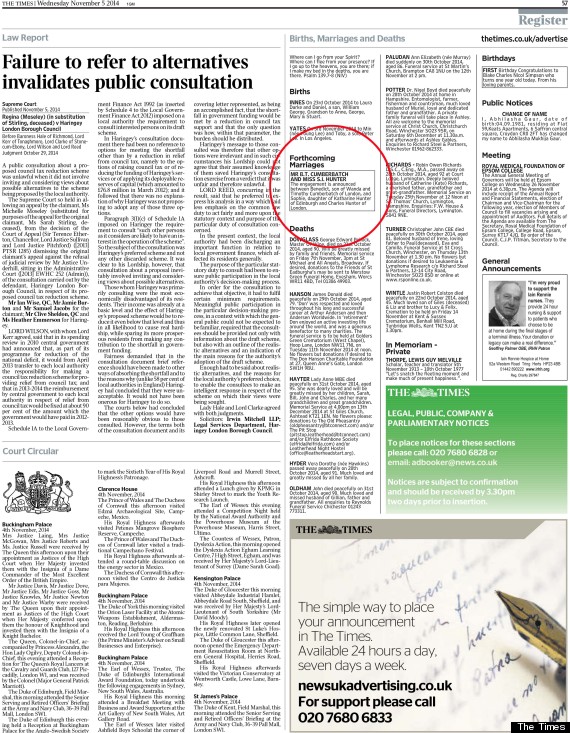 Easy to miss...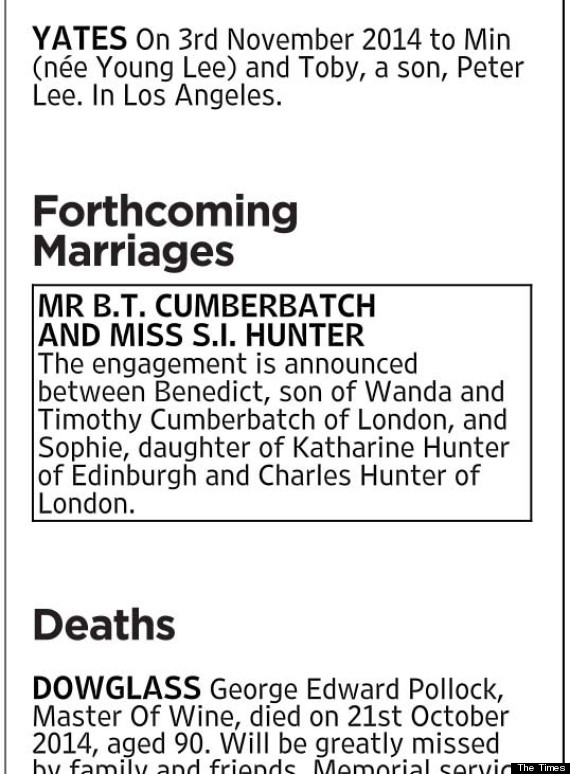 A forthcoming marriage is announced
Yes, Britain's biggest current export to Hollywood is getting married.
While celeb journalists rush this morning to confirm it's true, news hacks were a little perplexed about why the news section of the paper carried so small a news story about it on page 20 - and speculated it may have been a breakdown in communication between the hacks and advertising team who book and place family announcements.
It is not uncommon for journalists to miss stories that appear in their own paper's announcement and letters pages.
One journalist tweeted about how he he remembered being told off by news editors for "letting potential stories slip through the letters pages", while another remembered the importance of checking the adverts for potential news.
@jimwaterson Remember getting bllcking from news eds for letting potential stories slip thru the letters pages. Surely no chance deliberate?

— Alexander Smith (@AlexSmithNBC) November 5, 2014
When at my local paper, I had to check the next day's small ads for potential stories. (via @aljwhite) #cumberbatch http://t.co/YeZWBYN2PR

— SimonNRicketts (@SimonNRicketts) November 5, 2014
It's amazing that Cumberbatch has announced his engagement in The Times, yet they didn't tell the news desk pic.twitter.com/9uilNnhgGu

— Tim Johns (@timoncheese) November 5, 2014
Seth Jacobson, the online news editor for The Sunday Times, said journalists should be weary of their own publications making the same error rather than "gloating".
@jimwaterson @RobDotHutton Before any of us gloat, there's a terrible sense though of 'There but for the grace of God...'

— Seth Jacobson (@Lindapalermo) November 5, 2014
With so many people asking if the man from the wedding announcement was the actual Cumberbatch, it was clear the small news item in the paper went unnoticed.
BUT - it may have just been the paper of record being coy about its massive scoop.
UPDATE: That is what it was. Patrick Kidd, the diary editor who wrote the news story, said the news desk was aware but felt it was "a bit more classy" to let the news get out via their own announcement.
@jack_sommers Paper's choice. News desk knew. Could have gone massive but a bit more classy to let the couple announce it their way I think

— Patrick Kidd (@patrick_kidd) November 5, 2014
READ MORE

'Sherlock' Actor Appears To Confirm Engagement To Sophie Hunter In The Times