John Lewis's Christmas advert 2014 has arrived, along with the social media onslaught of reviews, parodies and overjoyed gushing at the film which now officially launches the festive shopping season, if nothing else.
John Lewis released the film showing a little boy who finds a companion for his best friend, Monty The Penguin, at 8am this morning.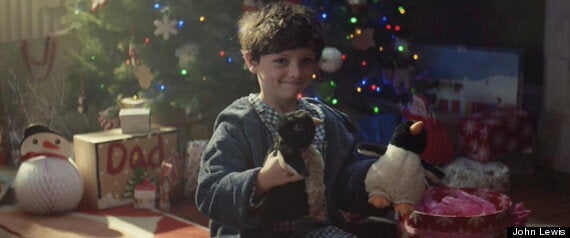 Monty the Penguin has arrived
The ad is already on track to far surpass the success of last year's The Bear and The Hare advert. Within the first 24 hours of launch, last year's ad had clocked up 200,000 shares in a day. This year within just four and a half hours of launch, Monty's Christmas has already generated almost half of that, with 73,871 shares in total, according to social analytics company Unruly Media.
There had been only 330 mentions of the advert's official #montythepenguin hashtag on Twitter until 6pm last night. By 10am this morning, two hours after the video launched, that has catapulted to 11,363 mentions, according to social media agency We Are Social.
Twitter's UK managing director Bruce Daisley told The Huffington Post: "This year's John Lewis ad is swooningly brilliant. They expertly focus on telling beautiful stories in an understated way. We can just hope and pray it doesn't lead to more Tom Odell being played on the radio".
Journalists and bloggers had been confused by receiving mysterious soft toy penguins in the post, anticipating Monty's arrival:
There was also a sneak-peek teaser on Channel 4 - where the advert will appear on TV for the first time on Friday night during the broadcaster's reality show Gogglebox.
As for all retailers, Christmas can make or break John Lewis's business each year. Its ads pulled in £1.07 billion in extra sales between 2009 and 2011, and helped with a sales boost of 6.9% for Christmas last year.
Christmas advertising this year is set to be bigger than ever: advertisers will spend almost £5 billion in the last three months of the year according to a report released today by The Advertising Association.
But unusually, John Lewis hasn't upped its Christmas spend this year. It has forked out £1 million on the Monty's Christmas film and a total £7 million on the overall campaign including Monty merchandise ranging from toys to pyjamas to cufflinks. More merchandise has been ordered than for last year's Bear and The Hare campaign - when soft toys sold out as people rushed to own their own character from the advert.
Things could be cooling down. One of John Lewis's execs said earlier this year that its Christmas work would be more "modest" ad as people had been turned off by the hype.
Magnus Djaba, the CEO of advertising agency Saatchi & Saatchi London, said the ad was "Another great big hug for middle class women."
"It definitely plays to truth. It makes me think about my childhood and it makes me think about my son."
But he warned that the fevered hype around John Lewis Christmas adverts could be waning.
John Lewis hit the advertising jackpot in 2011 with its emotional Christmas film The Long Wait, showing a little boy counting down the days until Christmas. But Djaba said that success may not last as it was partially due to the bleak economic climate at the time.
"Back in 2011 we were coming out of an economic decline, and it wasn't great times. The John Lewis Christmas ad was a great pick-me-up emotionally for the nation. The difficult thing for John Lewis now is that we're in better times, so I don't think the country's as desperate to be given a hug as it was at the end of 2011. The advertising hasn't lost its magic, but the climate we're in is different."
James Murphy, the CEO of John Lewis's advertising agency Adam&Eve/BBD which made the ad, said "Most us have had toys that were real to us, so what if the toy really was that companion? It's about buying someone something they really love for Christmas. "
The ad features a 3D animated penguin, Monty, created using sophisticated technology that created a model of Monty's skeleton, fat and body which could be controlled to make him move in a realistic way, based on real penguins.
"The type of penguin involved was studied very closely," revealed Murphy.
"We looked at them and the way they moved. This particular species of penguin was chosen because he's a good size and dimension again Sam the little boy who is his friend, and these penguins are strangely emotive looking - they are very expressive but without being very gregarious, it's just a slight tilt of the head or a look in their eyes. It's quite a character. We went to London Zoo to look at them but sadly couldn't get flown to observe them in their natural habitat."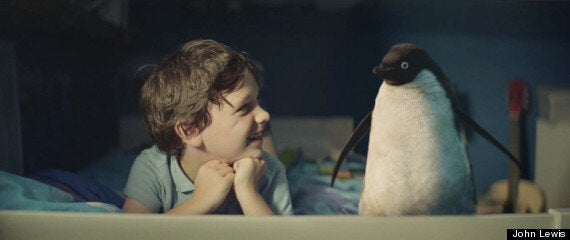 Murphy told The Huffington Post UK that he didn't feel worried about the intense attention on the ad: "We're not worried. I think we know we've got a strong campaign."
Despite not spending more, John Lewis has chosen to invest in some tech wizardry for the campaign - visitors to 'Monty's Den' in John Lewis stores can be some of the first people to try goggles made from "Google Cardboard", Google's virtual reality technology that uses simple materials.
Microsoft is also involved in the campaign, and has created a 'toy machine' which allows children to bring in their favourite toy which will be "brought to life" by being turn into an animated character.
Advertisers are firmly in the entertainment game. As Christmas adverts have become an event, they've become increasingly like films. Companies now screen their ads to staff and journalists in plush cinemas with champagne, and last year Sainsbury's went for a full-on premiere at Bafta to launch its very cool crowd-sourced Christmas documentary, produced by none other than Ridley Scott's production company.