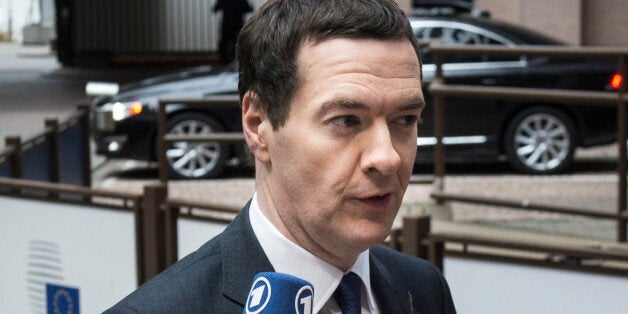 Britain is to pay £850 million of the £1.7 billion demanded from the European Union, Chancellor George Osborne has said.
The payment will be made in two instalments in the second half of next year - after the general election - without the imposition of punitive interest charges.
Osborne said the UK would get its full annual rebate on contributions to the EU budget - usually worth around £3 billion - which would be paid upfront.
Following a meeting with fellow EU finance ministers in Brussels, Osborne said in a series of messages on Twitter that the original bill was "unacceptable".
He added: "Now we've halved the bill, delayed the bill and no interest on the bill. Result for Britain. We'll get full British rebate - paid upfront. We will pay c£850m total, in instalments in second half of next year."
A furious David Cameron demanded that the issue of the British contribution be put on the agenda of today's Ecofin meeting of EU finance ministers in Brussels, after it emerged at a summit of EU leaders last month.
The Prime Minister insisted that he would not pay by the initial deadline of December 1, and would not hand over "anything like" the 2.1 billion euros demanded.
Initial reports from the Brussels meeting indicated that the UK's EU partners had agreed only to delay the payment., rather than reduce it.
France's Michel Sapin said a "consensus" had been reached that countries facing large bills - which also included the Netherlands, Italy, Malta and Cyprus - could be given until September 1 to pay.
"On this proposal, it seems to me that a consensus is being established. We have to wait until the end of the debate, but it is around this proposal that a consensus is being built," said Sapin.
Speaking in Helsinki before the conclusion of the finance ministers' meeting, Cameron warned that there would be "a major problem" if Britain's demands were not met.
Conservative MEP Daniel Hannan suggested that the deal achieved by the Chancellor may not represent any reduction to the amount being demanded from the UK.
The apparent reduction seemed to have been achieved by bringing forward the rebate due to the UK every year, which would anyway have been applied to Britain's contributions in due course, he said.
"The EU sticks us with a bill. Ministers double it, apply the rebate, return to the original figure and claim victory. We're meant to cheer?" said Mr Hannan.
"Britain is worse off in absolute terms, but a straw man has been knocked down. A prelude to how the pro-EU side will fight the referendum."