It's one of the earliest cases of side-eye ever documented on camera, but now Sophia Loren has finally revealed exactly what was going through her head when she was famously snapped giving Jayne Mansfield a look of clear distaste more than 50 years ago.
SEE MORE:
The two Hollywood stars, who had never actually met until that infamous moment, were photographed at a Beverley Hills party back in 1957.
However, while Jayne is seen grinning towards the camera in the photograph, Sophia looks far from enthused to be in her fellow actress's company.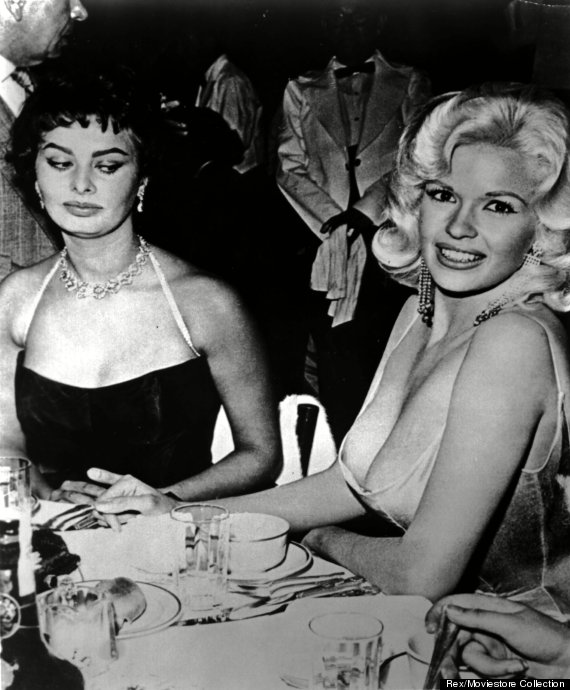 Sophia Loren gives Jayne Mansfield some serious side-eye
Even half a century later - and 47 years after Jayne's untimely death in a car crash - Sophia still struggles to hide her disdain for Jayne's revealing outfit, telling Entertainment Weekly: "She came right for my table. She knew everyone was watching. She sat down. And now, she was barely… Listen. Look at the picture. Where are my eyes?"
She goes on to explain that she was concerned about Jayne exposing herself at dinner - which, of course, she ultimately ended up doing - adding: "I'm staring at her nipples because I am afraid they are about to come onto my plate.
"In my face you can see the fear. I'm so frightened that everything in her dress is going to blow- boom! - and spill all over the table."
Sophia has also said that she outright refuses to sign copies of the iconic photograph when fans present it to her, adding: "I never do. I don't want to have anything to do with that. And also out of respect for Jayne Mansfield because she's not with us anymore."
Earlier this year, Sophia, whose most recent film 'Nine' was released in 2009, celebrated her 80th birthday.
Check out some of the glamorous looks from throughout her life below...
LIKE US ON FACEBOOK | FOLLOW US ON TWITTER