Alan Johnson has made another bid to quash rumours he could take over from Ed Miliband - ruling out ever running for the Labour leadership.
The former home secretary branded the party's top job an "onerous role" and said he would not be returning to front line politics.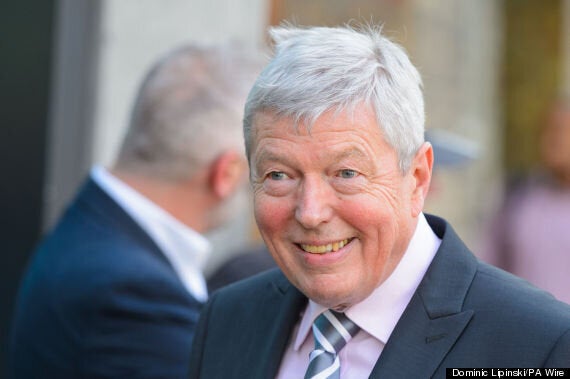 Alan Johnson has ruled himself out of a leadership challenge
"At the beginning of this parliament the Labour party lost precious months conducting an overlong leadership campaign that allowed the coalition government to develop its big fat lie about the global recession, while we in Labour examined our collective navel. The question of the leadership was settled then. It must not be re-opened," he wrote.
"Miliband will lead us into an election that I am convinced we can win. It was my decision to walk away from frontline politics, not Ed's.
"He knows that while I won't return, I will do everything I can from the backbenches to put Labour into government, and Ed Miliband into 10 Downing Street.
"The position of Labour leader has been vacated twice during my time as a member of parliament. Both times I chose not to stand. I happen to think that a better person took this onerous role on each occasion.
"I have never stood for the leadership of my party - and for the avoidance of doubt, regardless of the circumstances, I never will."
The latest denial came after an intense bout of speculation about Miliband's future, with deep unrest among the ranks of backbench MPs and claims that some of his top team are plotting against him.
A ComRes poll for ITV has underlined concerns that the leader is failing to win over the public - suggesting that 50% think he would make a bad Prime Minister, compared to just 16% who believe the opposite.
Miliband attempted to brush off the reports earlier, joking that "you shouldn't believe everything you read in the papers".
Miliband said: "Definitely not. It is a huge privilege doing this job. What excites me is the way we can transform this country. The country has huge advantages, huge talent."
Asked if he agreed there was a "crisis of confidence" in his leadership, he replied simply: "No."
The shadow business secretary told Sky News: "I know, for my constituency, (we have) a united Labour Party in ensuring that we get David, um, that we get Ed Miliband into No 10. I know ultimately that that's what's going to make a difference to their lives."
Shadow home secretary Yvette Cooper dismissed suggestions that she was preparing for a leadership bid as "complete nonsense", adding: "There was stuff in the papers that people have put there for their own reasons, but it just damages the Labour Party but it's just made up, it's not true."
Cooper told the BBC: "Right across the shadow cabinet, we are supporting Ed and the work that he is doing, because he is right to be talking about jobs, about businesses."
Cooper's husband, shadow chancellor Ed Balls, dismissed as "a bit silly" questions over why he had not retweeted a message with the hashtag #WeBackEd which has been circulated by Labour activists over the last few days.
Meanwhile, a letter signed by 100 Labour candidates - including many in key marginal and target seats - called for an end to the "campaign of briefing to destabilise Ed and his leadership".
Published by the LabourList website, it said that Mr Miliband had "led our party to within striking distance of government" and that they were "proud to be led by a man that we know to be honest, sincere and decent.
"We have watched in disappointment over recent days as an anonymous few have attempted to orchestrate a campaign of briefing to destabilise Ed and his leadership," the would-be MPs said
"It is a distraction from the real issues, damaging for our party and it has to stop."
Related