On Monday the Daily Mail peaked with one of the most gloriously over the top headlines in the history of forever.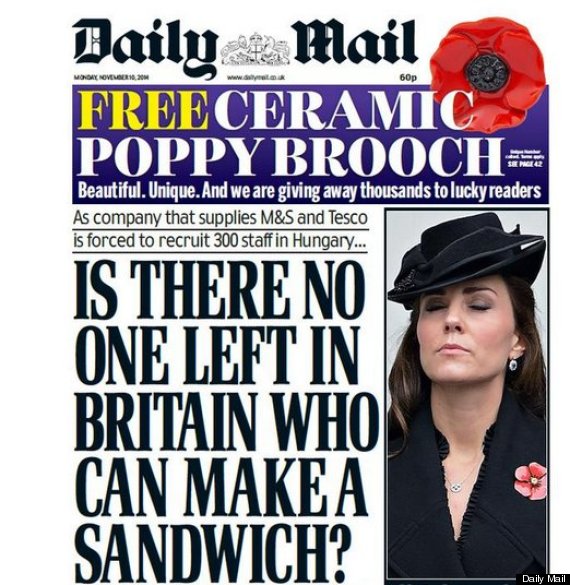 That's right, they're lamenting the death of all things sandwich related in this once fine country of ours.
I'm on the tube, with a bunch of sandwich shirkers. None of these deadbeats could even begin to attempt a BLT. State of this country.

— Chris Hewitt (@ChrisHewitt) November 10, 2014
Bloody foreigners coming over here with their sandwich making skills.

— Jay Tuvz (@JayTuvz) November 9, 2014
And they might have point as it appears many people have in fact zero idea of what constitutes a bread-based snack.
Take Paul. He hasn't got a clue.
I still can't work out how I'm supposed to make my sandwich using a bow and arrows. What am I doing wrong? pic.twitter.com/iKONvWShHq

— Paul Robinson (@PaulJRobinson) November 10, 2014
Surely everyone knows you have to skin it first.
Just back from the Daily Mail canteen. I can't see what they're complaining about. pic.twitter.com/O8kLK244OV

— Michael Moran (@TheMichaelMoran) November 10, 2014
Nope. Close but nope.
Sandwich-makers of Britain concede Daily Mail front page is right http://t.co/o8wF4GM5Wipic.twitter.com/uUMGNUWrIc

— Adam (@adm_bn) November 10, 2014
How have these people even reached adulthood?
Aw, man. The Daily Mail is right. pic.twitter.com/127308uA6y

— Amanda (@Pandamoanimum) November 9, 2014
Gross.
Seems as though the Daily Mail is right. Just tried to make a sandwich and it looks disgusting. pic.twitter.com/5U6kgtSswa

— David Lewis (@David_C_Lewis) November 10, 2014
Top marks for ambition.
How dare the Daily Mail question my sandwich making!

My triple decker banana, peanut butter & honey is legendary! pic.twitter.com/HlbC3Bb1Pn

— GoggleRox (@RoxiHighHeels) November 10, 2014
Just shabby cutting skills.
So, the @dailymail don't think there's anyone left in the country who can make a sandwich, eh? Wrong. pic.twitter.com/eWxcMl6bHU

— Rick (@ghoticake) November 10, 2014
Vintage indeed.
The Daily Mail are idiots.

I made this Monte Cristo sandwich as proof. pic.twitter.com/t84KYeg7Id

— George Berridge (@George_Berridge) November 9, 2014
So close! Just one step away from glory!
Apparently not RT @suttonnick: Monday's Daily Mail:

Is there no one left in Britain who can make a sandwich? pic.twitter.com/KWv2WcGkK6

— ScrappySPJ (@ScrappySPJ) November 9, 2014
There there Karla...
The Daily Mail speaks truth we're too afraid to face!

I tried making an egg sandwich #BlameSociety#DailyMailSandwichpic.twitter.com/GNxDmAAxi7

— Karla (@KarlaGeorge) November 10, 2014
There's always one.
Still reeling from Sunday's headline on the Daily Mail? We suggest our steak sandwich recipe http://t.co/ByHG3pxzOdpic.twitter.com/bR1rjSFQRd

— Good Housekeeping UK (@GHmagazine) November 10, 2014
This is just plain dangerous.
This sandwich making business is harder than it looks. pic.twitter.com/Inp2aMwhbb

— JamieDMJ (@JamieDMJ) November 9, 2014
Hopeless.
Been trying to make the kids sandwiches for 45 minutes now.

I give up.

November 9, 2014
Ooh, didn't see this in the original.
That Daily Mail article appealing for homegrown sandwich makers has some interesting footnotes. pic.twitter.com/QrEAfrf2pT

— Jason (@NickMotown) November 10, 2014
Apparently some people think this dearth of sandwich-making ability is the appropriate time to make jokes.
"Did the Earl of Sandwich die in vain?"

— SimonNRicketts (@SimonNRicketts) November 9, 2014
You can't take away sandwich-making jobs from hard-working sandwich makers. It's their bread and butter.

— FantonEsquire (@FantonEsquire) November 9, 2014
"Is there no one left in Sandwich who can make a Briton?" - Daily Mail reports on Kent fertility crisis

— Michael Hogan (@michaelhogan) November 9, 2014
Someone make Paul Dacre a sandwich, for the love of God. No Hungarians, though.

— SimonNRicketts (@SimonNRicketts) November 9, 2014
RT if you can make a sandwich.

— Nick Harvey (@mrnickharvey) November 9, 2014