The first advert to show people smoking for nearly 50 years are airing air on British television today.
A commercial for e-cigarette brand VIP will be the first on primetime television to show someone using an e-cigarette or 'vaping' on TV and the first to show 'smoking' since it was banned in adverts in the 1960s.
The ad for VIP, which has twice had commercials banned for being too sexual, features a woman suggestively exhaling vapour which looks like cigarette smoke. It will appear in a break in ITV1's crime drama Grantchester, which starts at 9pm.
Britain banned television cigarette advertising in 1965 - and cigar advertising later in 1991 - but the landmark commercial can now be shown after a change in the law came into force overnight.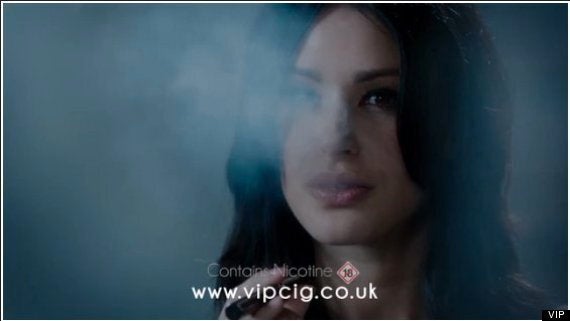 The ad shows a woman exhaling vapour
Under the new rules from the Committee of Advertising Practice, people over 25 can be shown inhaling and exhaling vapour in e-cigarette advertising.
But the ads are forbidden from claiming that e-cigarettes are healthier than smoking tobacco, and are not allowed to target non-smokers or under-18s. Ads must also make clear that the product is an e-cigarette and not a tobacco product.
The VIP ad features a symbol warning that e-cigarettes are only for those aged over 18.
VIP has already caused controversy after the Advertising Standard Authority banned another TV ad for being too sexual which drew over 1,000 complaints.
The ads star an actress in a black dress who rubs her thigh saying: "You know that feeling you get, when something's great? You can touch it, hold it, even see it. Well, now you can taste it." The watchdog ruled that VIP's ads must be shown only after 9pm.
This ad was banned for sexualising e-cigarettes
But anti-smoking campaigners said VIPs TV ads could normalise images of smoking and repeated the claims that they are guilty of "sexualising" vaping.
Deborah Arnott, chief executive of anti-smoking charity ASH, said e-cigarettes shouldn't be aimed at a general audience and slammed the new advertising rules saying they were not protecting people from smoking.
"Vaping is safer than smoking but it's not harmless and e-cigarettes should only be promoted to smokers," she said.
"VIP are clearly trying to create media controversy over their advertising on the assumption that any publicity is good publicity.
"They're hyping the fact that their ad makes it look like someone is smoking in a TV ad, which has been prohibited for many years.
"But they're missing the point as far as ASH is concerned. These ads sexualise e-cigarette use and do not make clear that these products are not for a general audience but are aimed at smokers.
"ASH doesn't see how these ads conform to the new advertising rules and if they do, then we are seriously concerned that the rules are not fit for purpose."
"Responsible advertising of e-cigarettes has its place, but this isn't what we'd call responsible advertising."
A 10 and a 20-second version of the ads will run after 9pm for five weeks.
Dave Levin, the co-founder of VIP, said: "We aren't afraid to provoke a debate about e-cigarettes."
"They are part of our society and we're offering our customers a healthier alternative to smoking.
"Recently, two separate papers in the UK have accused the World Health Organisation of exaggerating the dangers posed by e-cigarettes.
"One concluded that for every million smokers in the United Kingdom who turned to e-cigarettes, 6,000 premature deaths would be prevented each year - which would have a huge impact on public health, let alone NHS budgets."
Another ad, for e-cigarette brand KiK, aired at 06.09am on American satellite channel Tru TV, and will air more than 20 times through out the day. It was also broadcast at 9.45am on Channel 5 during The Wright Stuff.