The Government has been accused of orchestrating a "shambles" over a controversial vote on the European Arrest Warrant - which turned out not to be a vote on that measure at all.
House of Commons speaker John Bercow branded the vote a "sorry saga" after bitter clashes and confusion over what exactly the parliamentary motion covered.
On Monday night, the Government eventually won overwhelming backing for opting into a package of EU justice and home affairs measures after wrangling over the failure to call a vote specifically on the European Arrest Warrant.
Fearing a mass rebellion, prime minister David Cameron raced back to the Commons from the Lord Mayor's Banquet at Mansion House, dressed in white tie, in order to vote.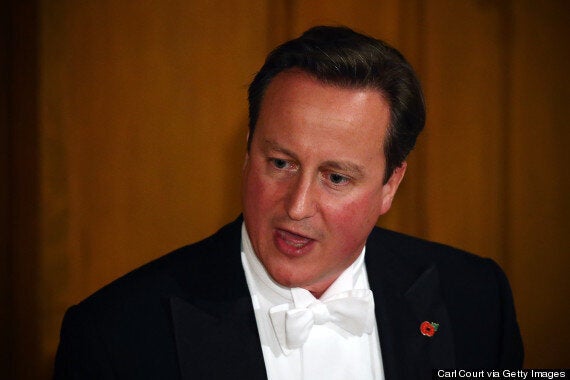 Cameron - dressed in white tie - raced back from the banquet where he was giving a speech
Debate on the Government motion - a draft of the Criminal Justice and Data Protection (Protocol No 36) Regulation - was halted earlier this evening after shadow home secretary Yvette Cooper sensationally called the "question be not now put".
The procedural device called a halt to debate was aimed at postponing debate to another day, with Cooper demanding Home Secretary Theresa May come back to the Commons tomorrow for a vote covering the full package of measures. May accused the Labour spokeswoman of "playing politics" with the issue.
Cooper's move failed but was still enough to curtail debate by forcing the main vote to take place almost two hours early, despite filibustering from Tory MPs.
The highly unorthodox scenes were a final act to a dramatic series of major rows in the Commons chamber.
The clashes blew up with little warning after it was confirmed that the motion provided regulations for 11 of 35 measures which the Government plans to opt in to. But the 11 do not include the controversial EAW, and speaker John Bercow had ruled repeatedly the vote is not on the measure, despite the Commons being promised such a vote.
But the government managed to see off the Labour attempt to derail the vote, though it was close. A business of the House motion was passed 251 to 242 - a dramatic slashing of the Government's normally comfortable working majority to just nine.
Tuesday's Times front page described Cameron as being pushed "to the brink" by the risk of rebellion over the vote, while the i reported "fury" over home secretary Theresa May's apparent refusal to fulfill her commitment to a vote on the EAW.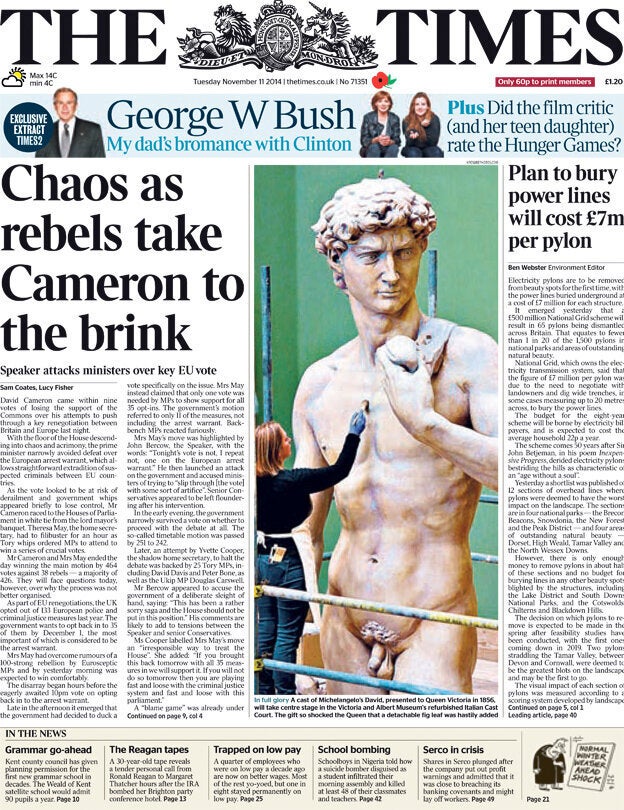 Tuesday's front pages
Bercow had blasted the Government for trying to slip out of a vote on the EAW in a move that he said would leave the public "contemptuous" of ministers.
Home Secretary Theresa May had said: "The vote on the next motion will be a vote on the regulations, which includes within it those measures a package of 35 we wish to opt back into which require to be transposed into UK legislation.
"But the Government is clear we will be bound by that vote and if this House chooses not to transpose those measures and votes against the regulation, then it will be voting against the Government opting into all of the measures, including the European Arrest Warrant."
Bercow accused May of failing to fulfill her commitment. Describing the confusion as a "sorry saga", Bercow contradicted May's claims that tonight's debate and vote would be on all 35 measures including the arrest warrant.
"I think most of us think a commitment made is a commitment that should be honoured and we should try to operate according to sensible standards rather than trying to slip things through through some sort of artifice," he said.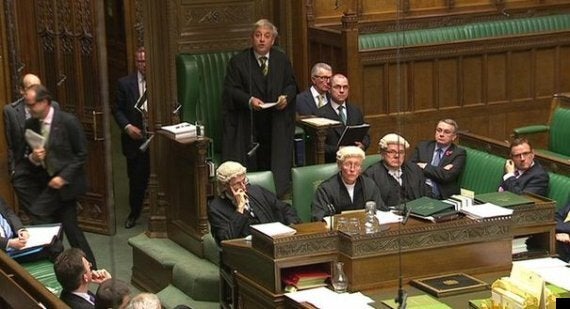 The Government has been accused of orchestrating a "shambles" over a controversial vote
"It may be the sort of thing that some people think is very clever, but people outside of the House expect straightforward dealing and they are frankly contemptuous, and I use the word advisedly, contemptuous of what is not straight dealing. Let's try to learn from this experience and do better."
In her own remarks, Cooper described the situation as a "shambles" and "complete chaos" and called on the Government to withdraw the motion and suspend the Commons before bringing forward a different set of proposals to vote on.
"You have effectively said ministers are just going to make it up because the Speaker has been very clear that this does not include a vote on the EAW, you are just going to reinterpret it in any way you choose," she said.
"That is an irresponsible way to treat the House. If you brought this back tomorrow with all 35 measures in we will support it. We will vote for it, then we will have no doubt about it, categorical support for all 35 measures. If you will not do so tomorrow then you are playing fast and loose with the criminal justice system and fast and loose with this Parliament and on that basis."
The Speaker told MPs he had spoken to "disinterested experts" and studied the motion before coming to the view that the vote was not on the EAW.
He indicated MPs may speak about the arrest warrant, adding these were "imperfectly configured circumstances" as he responded to points of order.
During the business motion debate, Tory Jacob Rees Mogg said: "We have whips scuttling around this House saying a vote will be taken tonight that is indicative of what Parliament thinks about the EAW. This is a procedural absurdity... the Government cannot conceivably decide that one vote is indicative of another vote."
Conservative Sir Richard Shepherd said the Government "seemed sly" as a result of the situation. He said: "Today we are confronted with a motion that is incomprehensible, an understand that seems sly, and is actually a means of trying to incline the public to believe otherwise than what is so. At the heart of this is a misconception about what this House represents... my over long time in this House of Commons has led me to understand the growth of executive arrogance is unsupportable."
European Scrutiny Committee chair Bill Cash described the situation as a trick that was "tainted with chicanery" and "completely unbelievable".
He said: "This is a disgraceful way of going about a very, very important matter. It is not the way this Parliament should be treated. It is completely unbelievable that she should have come to the House today and presumably tried to argue... that this is about the European Arrest Warrant when it clearly is not.
"The reason that it is being done in this fashion is to avoid having a real decision taken today as was promised to us by the Prime Minister only a few weeks ago. This is a travesty of our parliamentary proceedings."
He added: "It is fundamentally a lack of transparency and it is a lack of honesty in going around the issues which we need to deal with. I'm sorry that the Home Secretary is shaking her head when I say this because she knows perfectly well that this is a trick, it is an attempt to get round the reality of what is facing us."
Home Affairs Select Committee chair Keith Vaz said: "I share all the concerns of Cash. This is a shambolic attempt to get a vote on an issue that is of fundamental importance to the British people and I hope the motion will be withdrawn to give us an opportunity to be able to vote on these measures."
Conservative Philip Davies (Shipley) told May she appeared to be "making up" parliamentary procedure as she went along. He said: "You are talking about a package of measures but this isn't a package of measures it's things you have bundled up into a package."