Nigel Farage is used to getting a grilling in tough interviews… but how will he fare in the company of everyone's favourite 'Gogglebox' couple, Steph and Dom?
Yes, you read that correctly, the UKIP leader is to "get p*ssed" with the Parkers, when their own spinoff series, 'At Home With Steph and Dom', launches next year, according to reports.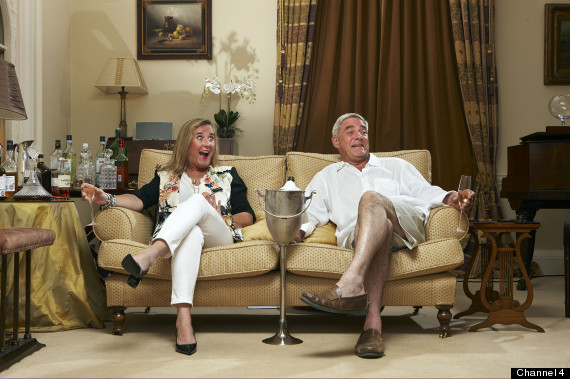 Dom and Steph
In an interview in the new issue of Radio Times, Channel 4's chief creative officer Jay Hunt explains that the new series will be a "rip-roaring alcohol-fuelled watch", which will see the 'Gogglebox' stars chatting to Farage when he stays at their B&B in Kent.
Jay reveals: "He gets p*ssed with them, but they also give him a grilling. We have found in Gogglebox an array of characters that people have taken into their hearts."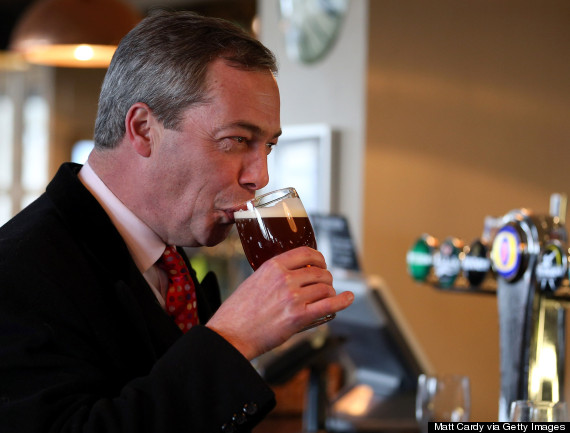 Farage was seen drinking near the couple's home earlier this year
Rumours that the controversial politician could be making an appearance on a future series of 'Gogglebox' first began circulating this summer, after he was seen drinking at a local pub near where Steph and Dom live in Sandwich.
An insider told the Evening Standard at time: "It looked like they'd already had one or two drinks - Dom kept introducing him to people by asking if they'd like to meet 'my mate Davey Cameron?'"
Farage is the UKIP representative for the couple's constituency in South Thanet, where he hopes to become an MP in the 2015 General Election.
His appearance on 'At Home With Steph And Dom' is thought to be airing in May, shortly before the election, though a spokesperson for Channel 4 has insisted that they will be adhering to the strict impartiality guidelines with their broadcast.
Last month, 'Gogglebox' had its first ever celebrity guests, when Naomi Campbell, Kate Moss and Noel Gallagher were seen watching 'The X Factor' together as part of a 'Stand Up To Cancer' special.
LIKE US ON FACEBOOK | FOLLOW US ON TWITTER