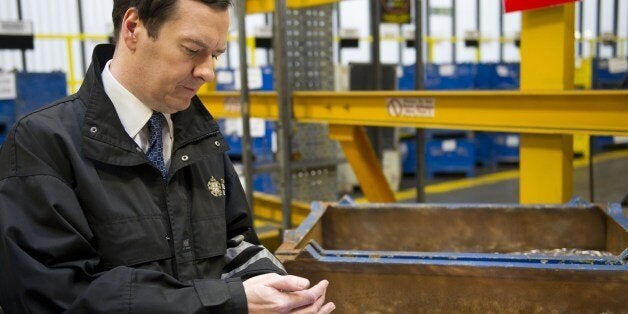 The pay squeeze may be nearing its end as new official figures indicate that the growth in wages is now outstripping prices for the first time in five years.
However, ministers have avoided celebrating too much as the level of pay growth is only slightly ahead of inflation, while critics have warned that there remains a "huge amount of lost ground to catch up".
According to the Office for National Statistics, pay, including bonuses, was 1% higher than a year ago and 0.3% higher than the month before. Excluding bonuses, pay grew by 1.3%, which was just ahead of the rate of Consumer Price Index (CPI) level of inflation, which stands at a five-year low of 1.2%. The pay rise for those in the private sector was slightly higher at 1.6%.
Asked this morning whether the pay squeeze "is now over", Bank of England governor Mark Carney told reporters that he "hesitated" to declare that.
The Bank expects the prolonged squeeze on pay, which has lagged behind inflation since 2008, to come to an end next year with real terms wages expected to grow by 2%.
This means households will finally see a real terms boost to their pay packets next year as wages growth accelerates and inflation dips below 1% for the first time in more than a decade.
Lib Dem Business Secretary Vince Cable warned: "We are only just seeing earnings grow faster than inflation. We want workers to see the full benefit of the recovery. That is where our focus must be in the coming year."
The positive news for Britons' pay packets comes as figures indicate that a new record number of people are in work and unemployment has fallen yet again.
The jobless total fell by 115,000 in the quarter to September to 1.96 million, the lowest figure since the start of the year. The number of people claiming jobseeker's allowance was 931,700 in October, 20,400 down on September, and the 24th consecutive monthly cut.
Employment increased by 112,000 in the latest quarter to 30.7 million, the highest since records began in 1971, the Office for National Statistics (ONS) reported.
Employment Minister Esther McVey said: "Record numbers of people in work means more people with the security of a regular wage who are better able to support themselves and their families.
"With the vast majority of the rise in employment over the last year being full-time, it's clear that thanks to the government's long-term economic plan, we are helping businesses to create the jobs that people need.
"More young people are getting their foot on the career ladder and we've seen record falls in female unemployment, so as the economy continues to grow, more and more people are having their lives transformed by moving into work."
However, shadow work and pensions secretary Rachel Reeves said: "Today's fall in overall unemployment is welcome, but after four years when prices have risen faster than wages there is a huge amount of lost ground to catch up.
"The Government has failed to tackle low pay and as the OBR [Office of Budget Responsibility] has said, stagnant wages and too many low-paid jobs are leading to rising borrowing."
Deputy Prime Minister Nick Clegg added: "I am proud of what has been achieved during this coalition Government - across the UK, there is now a record level of employment, with 30.8 million people in work.
"Today's encouraging figures are a tribute to the hard work and enterprise of the British people. Working together, we are building a stronger economy in a fairer society."
Business groups welcomed the latest figures but warned that "much more remains to be done".
James Sproule, chief economist at the Institute of Directors, said: "Cooperation during the recession muted the rise in unemployment and it is this approach which is now leading to pay rises.
"Importantly, both employers and employees have understood that increases in wages must be driven by improved corporate performance. This ensures that wage increases in real terms, which we are beginning to see, are sustainable and based on productivity gains."
Neil Carberry, employment director at the Confederation of British Industry (CBI), said: "Over the past few months, we've seen companies' pay awards start to recover, and this is feeding through to average earnings.
"Much more remains to be done to ensure growth works for everyone."