Botox-style boob jobs are on the rise, according to a cosmetic surgeon who says the non-surgical treatment is becoming a "must have pre-red carpet procedure" for celebrities.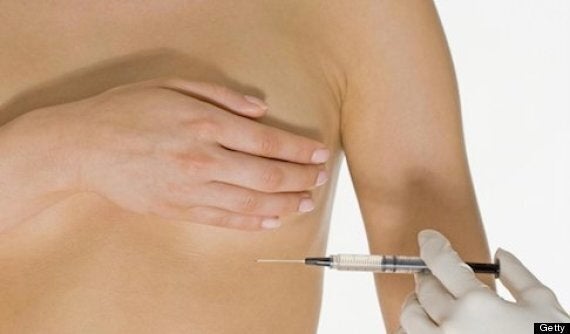 The way it works is simple.
Botox is injected into the pectoral muscles, which temporarily relaxes them - or paralyses them depending on how you look at it. This means that surrounding chest and shoulder muscles are left to support the breasts, which provides an instant lift.
"There's no downtime, no reported side effects, no scars and it is virtually painless," Dr Needu claims.
"It takes less than 30 minutes and is the ideal treatment for women suffering from post-pregnancy droopy boobs, ageing, sagging breasts or a wrinkly bust line as a result of sun damage."
The procedure costs £1,000 - which is cheaper than a regular breast augmentation that costs between £3,500 and £5,000 - and the boosting effect lasts for six months.
But does it actually work? And what are the potential side effects?
Mark Norfolk, clinical director from Transform Cosmetic Surgery told HuffPost UK Lifestyle: "This type of treatment may indeed may the breasts look firmer and perkier but will not significantly enhance the size of the breasts.
"It should not be referred to as a 'boob job' rather a breast firming treatment. Breast augmentations will take patients up by at least two cup sizes – this type of treatment cannot offer the same benefits."
Mr Norfolk doesn't believe this treatment is a viable alternative to breast augmentation.
"It is only temporary so the patient would need to have regular, paid for, treatments to keep up the effects," he says.
"With a surgical breast augmentation, patients see a significant difference in terms of the size of their breasts and the procedure is permanent for as long as the patient wants."
There are pros to opting for a 'botox boob job'. "This is a temporary procedure so if the patient isn't happy, they can wait until the product wears off."
Mr Norfolk says that the treatment is not something they are considering to offer at his clinic: "There just isn't the demand for this type of treatment."
What do you think of the procedure? Let us know in the comments below...