An attempt by Russian state television to produce evidence denying Russian responsibility for the downing of MH17 has been mocked and branded "preposterous".
The West and the Ukrainian government has said the plane was shot down by ground-to-air missile launched by Russian-backed separatists in the east of Ukraine, killing all 298 people aboard.
But Russia's Channel One and Rossiya TV stations released a satellite photograph it claims shows that a Ukrainian fighter firing a missile at the plane. The channels said they got the photo from a Moscow-based organization, which had received it via email from man who identified himself as an aviation expert.
Pro-Kremlin media, including broadcaster RT which recently launched a dedicated UK channel, have sought to cast doubt on claims Russian separatists.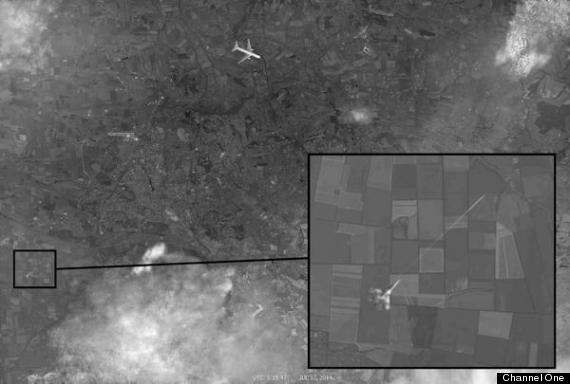 The 'satellite photo' that Russian state media released
The US State Department branded the satellite image "preposterous". The White House it was part of a Kremlin effort to "obfuscate the truth and ignore ultimate responsibility for the tragic downing of MH17".
Keen observers of the situation in the Ukraine insisted it was a fake, saying details such as the cloud pattern showed it actually dated from 2012.
A popular Russian blogger called it "a crudely photoshopped fake" and "just one episode in the information war".
On citizen journalists website Bellingcat, it was claimed the image appeared on a forum in October, which contradicted the claim it originated from an email from someone calling himself "George Bilt" on November 9. It also reported the image was a composite of several images.
SEE ALSO
In an extraordinary development, Mr Bilt later claimed he found the image on a forum and emailed it informally, clearly saying where it was from.
"Those folks are either desperate or totally unprofessional," he told Buzzfeed. "I am quite unhappy that my bona fide informal attempt possibly became a source of yet another battle in a media war."
On Sunday, Workers in eastern Ukraine began to collect debris from the crash site, four months after the plane was brought down.
The recovered fragments will be loaded onto trains and taken to the government-controlled city of Kharkiv. The investigation into the cause of the crash is being conducted there and in the Netherlands, where most of those who died were from.
Alexander Kostrubitsky, the head of the emergency services in the rebel-held areas of Donetsk region, said at the site that gathering debris could take around 10 days. The debris is being sawn into smaller pieces to facilitate its transportation, Kostrubitsky said.
Charred remains of the aircraft are scattered around fields over an area of eight square miles.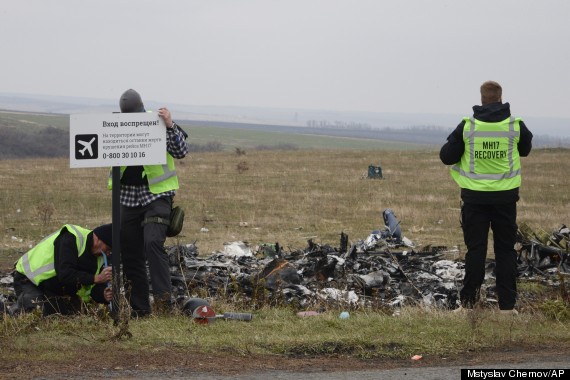 A 'no trespassing' sign is placed by MH17 wreckage, ahead of the recovery of the charred remains
Efforts to conduct investigations and recovery operations have been delayed amid continued fighting between government troops and separatist fighters. A truce was agreed in September, but hostilities have raged on nonetheless.
Some saw the Channel One satellite photo as a propaganda effort intended to deflect criticism over the tragedy that Russian President Vladimir Putin faced as he attended the Group of 20 summit in Brisbane, Australia.
Australian Prime Minister Tony Abbott has been particularly strong-worded in his criticism of Russia since the Malaysia Airlines plane was shot down. Abbott said he and Putin had engaged in a "very robust" discussion about the situation in Ukraine, though a photo of them both holding koala bears together led to much online mockery.
"Tony Abbott, after promising to shirtfront Putin … was pictured posing alongside Putin as the men cuddled a pair of koalas." #G20Brisbane

— Jonathan Sala (@tamasys) November 16, 2014
Abbott and Putin cuddling with koalas, smiling together before #G20. What mockery of all the dead people in Ukraine. pic.twitter.com/KSUF8XXxbJ

— Anders Östlund (@andersostlund) November 15, 2014
Abbott said he would take Putin head on, instead he ended up cuddling koalas with him. History goes straight to farce http://t.co/peqiehRSvr

— Dan Sabbagh (@dansabbagh) November 15, 2014