Erol Incedal will face a retrial after the jury could not reach a verdict on whether he had prepared an act of terrorism with others by targeting individuals, such as the former prime minister, or a wide-ranging Mumbai-style attack.
A provisional retrial date of February 23 next year was set at a hearing before Mr Justice Nicol today.
The details could only be reported today after trial judge Mr Justice Nicol lifted restrictions. The new trial is due to go on for four to five weeks.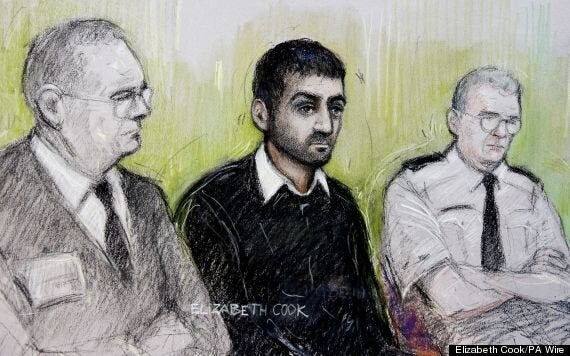 Erol Incedal (centre), formerly known in the case as AB, at the Old Bailey
The court had heard that the 26-year-old Londoner, was arrested on October 13 last year in his car near London Bridge, after police had bugged his black Mercedes when he was stopped for speeding on September 30.
A micro SD memory card containing the bomb-making document and another file on car bombs was found tucked into the cover of his iPhone.
The court heard that it contained instructions to build a viable device, in what was the first major terror trial in the UK to be heard almost entirely in secret.
Incedal admitted possessing the document and that it was of use to someone preparing an act of terrorism but claimed he had a "reasonable excuse" for having it.
But the jury was discharged after it failed to reach a verdict on another charge of preparing an act of terrorism with others abroad.
His co-defendant, Mounir Rarmoul-Bouhadjar, 26, pleaded guilty before the trial started to having an identical document.
The jury deliberated its verdicts for 23 hours and 35 minutes and found Turkish-born Incedal guilty of possessing the terrorist document but could not reach a verdict on the other count on November 11.
Related