Communities Secretary Eric Pickles has been in touch with the organisation's chief executive David Delew to offer the government's support, CST said.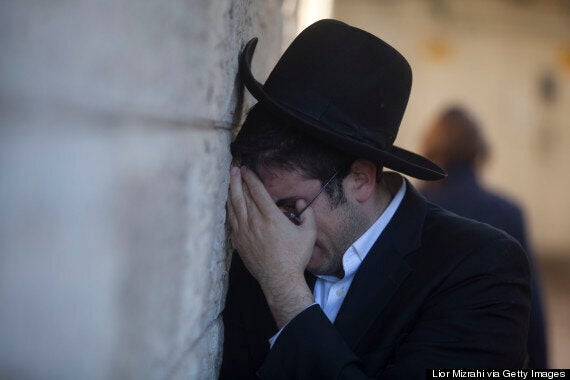 A man cries during the funeral of Rabbi Moshe Twersky, the British-Israeli killed in the synagogue attack
The charity called for the religious buildings to "ensure visible external security patrols take place to deter and detect hostile activity"
It also warned people to be wary when "arriving at or leaving communal buildings or travelling through Jewish neighbourhoods."
A spokesman said: "CST is not aware of any specific threat to the Jewish community in the UK. However, we urge everyone to remain vigilant and to report and challenge suspicious activity immediately to Police and CST. All communal buildings and organisers of communal events should review their security arrangements and ensure they are fully implemented."
But a leader US antisemitism campaigner Rabbi Abraham Cooper, associate dean of the Simon Wiesenthal Center in Los Angeles, told The Jerusalem Post that US communities are far more prepared to deal with anti-Jewish attacks than the UK because of alleged political failures.
"If I was in Jew in Britain, I would feel safer if the British political establishment and media spoke out against the cheerleaders of Islamic extremism," Cooper said, claiming there is "no pushback."
The Antwerp attack, which took place last week, saw Yehosha Malik stabbed at a train station, sustaining moderate injuries. Malik said he felt the knife go into his neck "and saw a young man eagerly trying to stab again," according to the Hadrei Haredim, a Hebrew website.
In Jerusalem, clergy representing Christians, Jews and Muslims have met on Wednesday near the Jerusalem synagogue where five people died in a grisly Palestinian attack to plead for tolerance.
The group stood in a courtyard outside the synagogue where two Palestinian cousins armed with meat cleavers, knives and a pistol killed four worshippers and a policeman on Tuesday. After a brief gun battle, security forces shot the assailants dead.
Absent from the meeting were Muslim authorities from Jerusalem or any senior Israeli rabbis.
"People from all religions which are here in the Holy Land want to express the common belief that this is not the way," said Rabbi Michael Melchior, a former Israeli legislator who is active in interfaith efforts. "We can have our differences, political differences, our religious differences, but this is not the way."
With Greek Orthodox Patriarch Theofilis III of Jerusalem and Latin Patriarch Fuad Twal in attendance, Sheikh Samir Assi, the imam of the Al-Jazaar mosque in the northern Israeli city of Acre, also condemned the Palestinian attack on the synagogue.
"We came to this place to take a stand toward this criminal act, which involves an assault against the sanctity of the house of God, and against the unarmed worshippers," Assi said.
With feelings still raw, not all residents were accepting the message. An ultra-Orthodox Jewish woman added her own commentary as Assi was leaving the area. "You don't have faith, you garbage," she shouted. "You don't have faith."
Popular in the Community