Throughout November, The Huffington Post UK is running its Beyond Belief series, chronicling the remarkable lives of religious people who've taken on their faith to create a force for change.

NEW YORK -- Representing Indiana's 7th district, Andre Carson is only the second Muslim to be elected to serve in the United States Congress following Minnesotan Keith Ellison, who was elected in 2006.
Carson won a special election in early 2008 to succeed his late grandmother, Congresswoman Julia Carson. He then retained his seat at the general election later that year, and won re-election in 2010 against Republican candidate Marvin Scott, a man roundly criticised during the campaign for, as the Indianapolis Star put it, "resorting to attacks on Carson's Muslim religion". Carson was again re-elected in the recent midterm elections, beating Republican and libertarian candidates.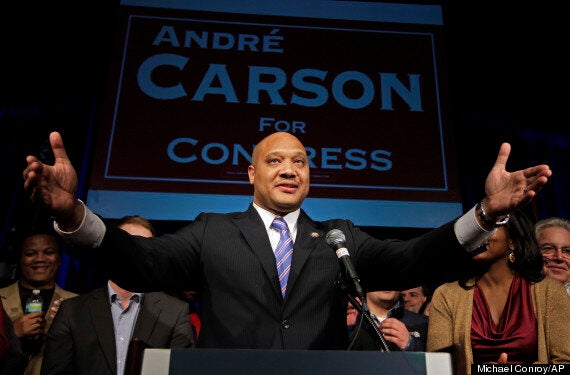 Democratic Rep. Andre Carson thanks supporters as he celebrates winning reelection in Indiana's 7th Congressional district at an election night celebration in Indianapolis
Born to a Baptist family in 1974, Carson converted to Islam when he was "16 or 17-years-old "having been "greatly impacted" by the Muslims in his community who were "pushing back on crime and protecting the neighborhood". He also found within the Quran and the teachings of the faith answers to theological questions that had been "stirring his intellectual curiosity"during his teenage years.
His childhood was initially difficult, with his mother suffering from mental illness, a condition that led her and her young son to be briefly homeless. His grandmother, a "liberal woman" who benefited from an "appreciation and fondness for Islam", raised Carson, providing him "space to grow and study".
Having graduated from Indiana Wesleyan University with a Master in business management, Carson became a police officer, transferring to a counter terrorism unit in Homeland Security after nine years working the beat, a posting that taught him the futility of trying to "fight the threat of global terror without Muslims".
HuffPost UK spoke to the 40-year-old Congressman about his faith, the role it plays in his politics and the wider role of religion in American society.
How did your difficult childhood shape your life and politics?
My mother suffered from schizophrenia so my grandmother raised me. My mother was a brilliant woman - she had a doctorate degree and was a devout Christian - but of course the illness impacted her judgment. But going through that difficult experience deepened my sensitivity to the less fortunate, to those who don't have home or shelter. Later on this complimented my Islamic belief in relation to almsgiving and helping the poor. That kind of experience should only shape a person to become a better humanitarian. It made me want to give back and make the world a better place.
Was there any kind of pushback from your Baptist family after you revealed you were converting to Islam?
Absolutely. There were some relatives who were told not to associate with me. However, my grandmother had a fondness and an appreciation for the religion, and she was wise enough to give me the space to grow and study, even though I was living under her roof. It's easy to be revolutionary when you don't have a mortgage.
Your grandmother encouraged your move towards the faith?
She definitely encouraged me because she knew for me as a young African American male that as long as I was in the faith I was not getting in trouble, the kind of trouble that would have left me incarcerated.
Still, some relatives were deeply disappointed. We laugh about it now but at the time where they were spiritually did not compliment my spiritual journey. It was good preparation though; rejection from loved ones hurts, especially as a teenager but I fell in love with the faith; it just answered questions for me.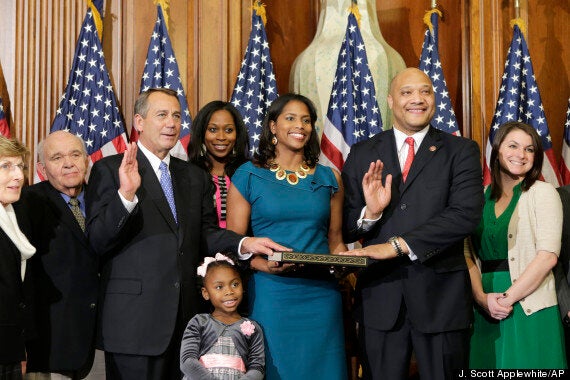 Andre Carson stands with his family for a ceremonial photo with Speaker of the House John Boehner
Who inspired you to go into public office?
My grandmother again was a cheerleader but the late Congressman Andy Jacobs [a Democrat from Indiana who served in the House of Representatives for more than 30 years] also influenced me. He was like a dad to me, my Obi-wan-Kenobi. He was very liberally minded and encouraged my religious exploration. Judge David Shaheed, who is now my father-in-law and was the first elected Muslim judge in the United States, also influenced me.
Islam is often associated with helping the oppressed or giving to the poor. How do these religious tenets carry over into your support for the Affordable Care Act (Obamacare), or your work trying to improve standards of education?
It was the Prophet Mohammed, peace be upon him, who stated explicitly in the Hadith that a man who educates his daughters is granted paradise. I think that has figurative implications and political implications. In the prophet's last sermon he said there is no superiority - white over black, Arab over non-Arab - words that were quite visionary and also applicable to our times today.
On the Affordable Care Act, one of the Islamic tenets is charity and giving to the less fortunate. The United States is arguably the wealthiest nation in recorded history, a country whose healthcare is a large part its GDP. Solving the problem of healthcare relieves a lot of those budgetary issues, but also sees the less fortunate in my community get help. Though it was complicated, people now - Republicans and Democrats - are appreciating the fact we were bold enough to take on the issue in 2010.
Do American Muslims need to become more entrenched in American society, particularly civil society and law enforcement? How do you encourage that?
It was a challenge for me. At 17, after I had started studying the religion, I was arrested because police officers tried to go into a mosque without probable cause. That arrest fuelled me into wanting to become a police officer, which I did. I managed to do that and I was assigned to homeland security, terrorism and counter-intelligence. What I learned is that in the US, as in the UK, it is impossible to fight the threat of global terror without help from Muslims.
But there is a problem with institutional bigotry. We have a tradition of COINTELPRO [an acronym for the controversial counter intelligence program started in the 1950s by the FBI under the leadership of J. Edgar Hoover that targeted civil rights groups, black nationalists and equality movements], which had a horrible impact, sowing deep levels of suspicion that have solidified over the years.
Also, xenophobia has become exacerbated because of extremist elements [within Islam], but I still say that Muslims have to take control of our own destiny and to reclaim our destiny we have to engage in a political process. Is it corrupt? Yes, in many aspects. Can we help remedy some of the corruption that's pervasive, or correct some of the misconceptions about Muslims locally and internationally? Yes.
The question becomes how do we leverage our voting blocks to become precinct committee persons, become ward chairs, members of school boards, or members of zoning boards? Every time we try and build a school or a mosque there are impediments because of local zoning boards [these provide planning permission for buildings, similar to local planning authorities in the UK]. If we increase our presence we can change that.
There are numerous Muslim men and women who are not only starting businesses but they are running successful businesses. They are putting Americans back to work. We should have that same type of management in the governmental space in governor's offices and in mayoral races. It's time to have Muslim mayors of major cities. Former FBI Director J. Edgar Hoover, whose counter intelligence program targeted black nationalists, civil rights leaders, leaving "deep levels of suspicion" amongst members of the African American community that "solidified over the years"
Are you seeing more engagement from Muslims in local politics, where all the decision tends to get made?
Yes, and not only in my own state. As I travel the country I'm speaking to large Muslim groups telling them we can no longer have a mistress relationship with politicians.
They [politicians] come to our communities under the cover of darkness because they don't want to be seen with us in public. That is unacceptable for a community that is highly educated, and has a large amount of capital that can be leveraged to create our own super PACs [these are organisations that pool campaign contributions and donate those funds to candidates]. But unless we see our own value we will not see significant changes in regards to the treatment we are receiving.
You and Keith Ellison are both from the Midwest. Observers would have probably predicted the first elected Muslims would have come from the more cosmopolitan areas, cities such as New York or LA?
I'm in the Bible Belt but what you'll find about Midwesterners is that they're less concerned about what religion a person is and more concerned with their value system and whether they'll deliver. What you are seeing from Representative Ellison and myself are Muslims that come from the African American experience. we are more concerned with civil and human rights, with education, with the global economy, creating jobs and how to repair broken infrastructure. These are issues Midwesterners relate to.
So Indiana constituents in 2008 didn't see a Muslim man, or they did but first they saw a former police officer, and then a man that had served in local government?
During the campaign there were a number of YouTube videos posted that tried to discredit me because of my religion. But the polling data we received stated that most people only really cared that I was a police officer and a former city councilor. It speaks to Midwestern sensibilities that folks are not be so wrapped up in a person's faith. They just want someone they can trust to represent them well in the halls of Congress.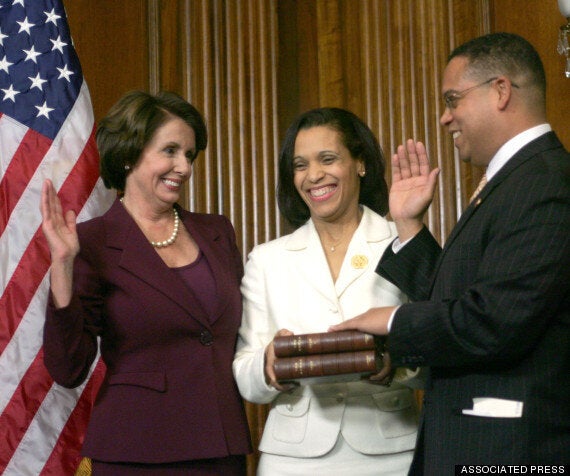 House Speaker Nancy Pelosi, left, administers the House oath to Rep. Keith Ellison, during a re-enactment swearing-in ceremony, on Capitol Hill in Washington, Thursday, Jan. 4, 2007. Ellison's wife Kim holds Thomas Jefferson's Quran which was provided by the Library of Congress
Do you think it would be harder for an American Muslim to win a seat in Congress with a more Middle Eastern name?
This is a debate I often have with my Arab friends, and a very serious one. This is why it's important to get involved in local races and local communities. It's about Muslims becoming entrenched in the community over time, then people will see that their local councilor happens to be Muslim and realise it's not so bad.
But we can take cues from our friends in the Irish community, the Jewish community and the Italian community. Just looks at the years of investment they have made. Many Americans from the Middle East have been focused on becoming doctors or lawyers and that's fantastic, but if we see significant investment in our local communities we'll see change within a decade.
Is religion still important in American politics?
We are seeing that people are no longer wedded to organised religion, the kind of religiosity that is burdensome, that is guilt obsessed, that is ritual obsessed. Folks are concerned with a personal relationship with God, a relationship with their family and a relationship with their community, and an intermediary cannot regulate that.
When we remove intermediaries from our connection with God, it frees us from the burden of serving a human being and allows us to serve the Creator. People are becoming more entrenched in faith because it gives us a sense of comfort in our tumultuous times, but folks don't want to become affiliated with organised religion.
Some Republicans, backed by campaign groups, are sincerely pushing for the US to adopt a more "Christian" worldview. Is this a concern?
I always respect a person's religion. I had a lot of support from the Christian community when I ran. There was a small group of Christian ministers that didn't want me to speak in their churches because they thought I was unfit due to my religion, but overwhelmingly more Christian pastors welcomed me into their pulpits and they still do.
The founders [of the United States] were very visionary when they said there should be no religious test to hold public office because there can be a danger when politicians use their public office to proselytise, and to ostracise people who don't feel the same way as them.
In 2011, you said the American school system should be more like Islamic madrassas. What did you mean by that?
My words were taken out of context. I was speaking to a group of Muslims and talking about pride. Some of the children from our [religious] schools were leaving multi-lingual and going to Ivy League universities. I said we needed to tell that story more, and be proud of our successes.
I used the word madrassas and folks took that out of context. What I was saying is that some traditional American public schools are graduating students that are functionally illiterate. So we should look at different models, not the religious aspect because I believe in the separation of church and state, but extract some of their methodology. What can we learn from some of our religious schools, from our Jewish schools, out Christian-based schools - and take that and put it into the public school setting?
As a Muslim, do you have to watch what you say knowing the far right are ready to pounce?
Sure, but I'm a very passionate person, I get very pumped. Knowing that I'm always being watched, I have to be careful but I also have to be authentic.
You're a vocal advocate of equal-marriage, an area most traditional religions have a problem with. Does you faith ever clash with your politics?
For me equal marriage is an issue of civil rights. If we believe we are all part of God's creation we should be careful about making these calls. The LGBT community is making great strides and I wouldn't be surprised to see a future president coming from that community.
But how can I as an elected official just represent one constituency? We represent all people. Muslims should be mindful that injustice anywhere is a threat to justice everywhere. We should have equality on all fronts.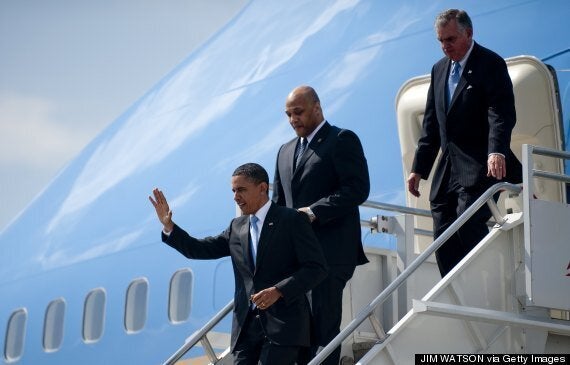 US President Barack Obama, left, waves as he walks off Air Force One with US Congressman Andre Carson, centre, and US Transportation Secretary Ray LaHodd at Indianapolis International Airport May 6, 2011
Related