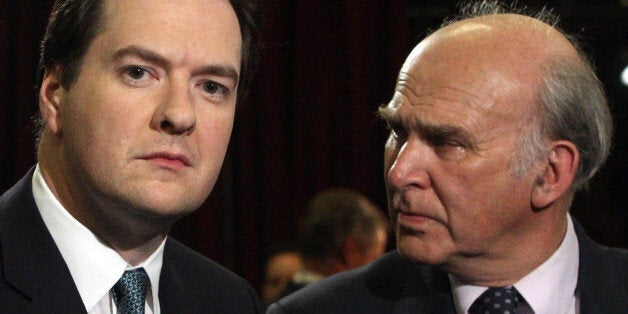 Vince Cable has been accused of "trying to hide the abject failure" of George Osborne's flagship schemes which are supposed to help British businesses export.
This comes after the Huffington Post UK revealed earlier this month that the Chancellor's £3 billion Direct Lending Facility (DLF) unveiled last autumn and operational since this March, has only helped one firm - the construction giant Carillion - trade overseas.
Under questioning from MPs on Thursday, the business secretary mocked such findings as "horribly out of date", insisting that "dozens of companies are now benefiting from that new suite of credit facilities".
However, when asked who these other firms were, Cable refused to name them, sparking suggestions that he is now trying to "spin his government's poor record".
HuffPostUK has repeatedly asked UK Export Finance, the government agency that offers insurance and bank guarantees to exporters, to confirm if the DLF had still only helped one business, as it stated just three weeks ago, but their spokeswoman refused to comment.
Labour MP Heidi Alexander told the Huffington Post UK: "Vince Cable has let down British business, but now he is adding insult to injury by trying to hide the abject failure of the government's export finance schemes.
"The government's Export Enterprise Finance Guarantee had to be dropped after only helping a small handful of firms. And recently, during Export Week, we learned that two of the government's flagship schemes have failed to get off the ground. Tellingly Vince Cable wasn't able to name any businesses which have received help through the Direct Lending Facility beyond the single firm which is currently taking part in the scheme.
"Perhaps Vince Cable should focus less trying to spin his government's poor record and more time working on behalf of British business."
He has also pledged to double British exports to £1 trillion by the end of the decade, a target which looks increasingly harder to fulfill.
Previously UKEF told HuffPostUK that only one firm - Carillion - had been helped by the DLF scheme, stating: "UKEF has supported one export contract so far under the DLF" and that "Carillion is indeed the only one who has closed a deal so far".
The government agency also indicated it had identified 39 potential contracts that range in size from £5 million to £500 million that it could support as evidence of "the export ambitions of firms of all sizes."
A Business department spokesman told HuffPostUK: "The government is committed to providing UK exporters with increased support and that is why we are tripling the number of international trade advisors for medium sized businesses and setting up British Business Centres in high growth export markets across the world.
"Last year alone UKTI helped more than 40,000 small and medium businesses and is on course to double the number of companies assisted compared to only 4 years ago.
"Currently there are nearly 40 companies who are in discussion with UKEF about using the Direct Lending Facility to help win export orders. They are benefiting from being able to offer their customers a competitive means of financing potential orders. However, due to commercial sensitivities, UKEF does not disclose the identities of exporters involved in potential transactions."