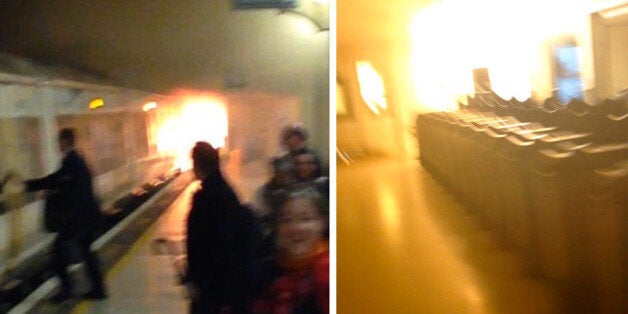 Charing Cross Station was evacuated earlier on Sunday after an incoming train caught fire.
These extraordinary image was taken by one of the fleeing passengers, Vincenzo Minore.
Mr Minore, who was a passenger on the train, told the BBC: "There was panic - you are sitting on a train and hear a blast and see a lot of lights and don't know what it was."
Annika Anwary, who works in the station and saw the fire, said: "I was in the staffroom. I heard the alarm so I came upstairs and I saw the train was burning on the platform.
"There were quite a lot of flames and flashing lights as well. People were just all running out of there. Most of them had already left by the time I came up.
"They tried to stay calm but there were definitely people running."
Fire engines and ambulances could be seen outside the station entrance.
A London Ambulance Service spokeswoman said: "We were called at 10.55am to reports of a fire on a train at Charing Cross.
"We sent a duty manager to the scene and two patients were checked over, but nobody was taken to hospital."
London Fire Brigade said it was "a small fire in the front carriage" of a train that was now under control, though the station remains closed. It said about "5% of the front carriage was alight".
A British Transport Police spokesman said: "Officers from BTP attended platform 6 at Charing Cross railway station after a report at 10.50am of a fire.
"At this stage, the fire is believed to have been the result of an electrical fault and there are no suspicious circumstances.
"The station was evacuated as precaution and no-one was injured."
Eileen Harris, 60, and her son Daniel, 26, were on the train to travel to Tunbridge Wells in Kent when the fire started.
Ms Harris said: "Suddenly the doors burst open and a woman ran through shouting there's a bomb on the train, everybody get off.
"We ran away towards the opposite end of the station because I thought that if there was a bomb, they'd probably take out the concourse.
"But the staff kept saying to us come back in and we really didn't want to come back through the station, because by then there was thick smoke.
"We were marshalled out here and told that it'd be closed for a very long time, and then the emergency services turned up.
"Where the fire was there were big bangs and pops and flashes. And the smoke, the smoke was the worst thing."
Mr Harris said: "There was fire and lots of thick smoke, so we assumed that there was a bomb ripping through the train.
"People were running through the train, and my first thought was the reason they're running down the train is because they can't get off. No-one really knew what was going on."
At around 1.20pm, National Rail said normal train services were resuming.