Stripping naked and posing in front of a camera has almost become a rite of passage for any student belonging to a university sports team.
Read More..
"It's exploded on social media," explains men's hockey club president Piers Denning. "The reaction has been overwhelmingly positive; we had no idea what it would be when we shot the video.
"It's nice to see from our point of view how much it means to some people and once again shows how much of a pressing issue this all actually is."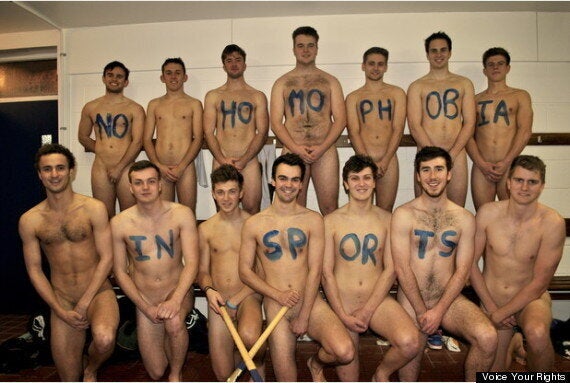 And rather than just side-stepping the problem, students are now actively tackling homophobia head on - and moreover, they're relishing the challenging.
"We originally did it for a bit of fun while trying to help out where we can and to show as a club we have a zero tolerance attitude to issues such as this," Piers continues. "The fact that it has gone absolutely crazy is is nothing but a massive bonus!
"I think I speak for a lot of people when I say that sport at university is the best thing about university life. Not just for the on-and-off the pitch action but the life skills and assets it provides, from a healthy life style to mates you will make for life and even employability skills you can gain for things such as committee positions.
"It is ridiculous to think that some people don't want to get involved with stuff like this due to the fact they think they would have to hide who they are, sport is an incredibly welcoming environment and everyone should be able to experience it."
The club was approached by a society at Nottingham University called Voice Your Rights, which campaigns for human rights.
"They wanted to do something to combat the growing issue of homophobia in sports. We shared their point of view and therefore decided to help out.
"I think originally this issue [of homophobia] went unseen as being part of the [straight] majority, we don't see the detrimental effects of the prejudice.
"Through campaigns such as this, real exposure is being given to it and clubs just need to make their communities aware that there really is no issue with [being gay] and it's just an unnecessary taboo.
The viral video almost didn't happen; it was a by-product of a calendar the team wanted to produce - which hasn't yet happened due to lack of funds.
"We are still looking for a sponsor. The original idea was to shoot a naked calendar that was hockey themed.
"Luckily we filmed all of the photographic shoots we did and therefore could salvage a video out of it in the end! So the video is basically based around the ideas for the calendar."
With universities such as Warwick printing annual calendars, and many more jumping on the bandwagon, the market does seem rather saturated - but Piers says it doesn't matter as long as they continue to raise awareness.
"It completely depends what you are looking to get out of making a calendar. Our entire aim was to raise awareness for an issue we think its effecting sport globally on all participation levels.
"So anything that raises awareness and makes people notice the message you are trying to get a cross can be deemed as successful."
Of course we had to ask the burning question at the forefront of everyone's minds - weren't you a bit, er, cold?
"For a day in March I am sure it was the coldest day of that month in history!
"20 of us turned up not really sure what was required but the day was so much fun. Everyone was eager to get their kit off for the cause and the creativity started flowing with various hockey themed shoots (while using hockey themed equipment to protect the modesty!).
"The shoot probably took a couple of hours with a view interviews here and there. Playing hockey naked though cannot be underestimated, one of the most challenging tasks I've ever accomplished... or not... as it may be evident. Overall though it was a really fun day and it's great to see the reaction it has got."