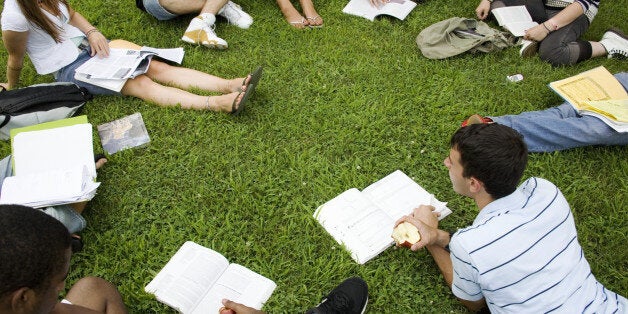 Many students do not find their degree course demanding or stretching according to new research, which warns there are rising concerns over whether going to university is good value.
More than one in four undergraduates admit they can get away with doing very little private study and still get good marks, it found.
The Which? report, concludes that many students are not happy with the academic experience on offer, while others are increasingly concerned that they are not getting value for money.
Students are also reporting changes to the content of their courses or rises in tuition fees part-way through their degree, with a significant number saying these alterations are unfair.
The report, which is based on surveys of current students and recent graduates, concludes that there are a numbers of areas where action needs to be taken.
In total, just half (49%) of students say that the amount of work they have to do for their degree is demanding, while only four in 10 (39%) say the content of their course is stretching.
Less than half (45%) thought that seminars were generally worth attending. And over a quarter (26%) said they believe you can do little work and still get decent results.
Previous research has found that students' total workload averages less than 30 hours a week, significantly less than recommended by the higher education watchdog, the Quality Assurance Agency (QAA).
The new Which? report found that just a third of students report doing the recommended reading for their course throughout the term, while 28% of undergraduates agreed that they had lots of free time and a similar proportion (29%) said they were doing fewer hours of less work than they did at school.
One student told researchers that academically, his course was "not that challenging" while another said he often doesn't feel stretched enough.
The findings also show that nearly six in 10 (58%) students say they have experienced a change during their course such as changes to modules or the location of teaching and 12% have seen an increase in tuition fees part-way through an academic year or between years. More than a third (35%) thought the changes were unfair.
Of the graduates questioned, around 18% felt their university experience was poor value for money. These are university leavers who paid around £3,000 a year for their course - around a third of the current maximum fee.
The top reasons for students saying their course was poor value were inconsistent teaching, not enough support to find a job and too few contact hours.
The report concludes: "There are rising concerns about the value of higher education: while the majority of students say they are satisfied with their course, one third of students disagree that their course is good value and these figures have been rising over time."
Which? executive director, Richard Lloyd, said: "We are rightly proud of our university sector with institutions that are regarded among the best in the world. The next phase of reform for this market should protect that reputation and help students get the best value for money from higher education.
"We want to see better information for prospective students, improved complaints processes and a strong regulator that enforces high standards across the sector."
Which? said it is calling for students to be given better information and advice about higher education choices, minimum standards for complaints and better regulation that focuses more heavily on standards.
Nicola Dandridge, chief executive of vice-chancellors' group Universities UK, said: "The move from public funding to increased fees in England has undoubtedly led to increased expectations from students.
"Student satisfaction rates are at record levels across all the UK's universities, as shown by the latest national student survey. The latest survey reported that 86% of students were satisfied overall with their course. It shows that universities across the UK are responding to student feedback and working hard to improve the academic experience.
"It is essential that students get as much information as possible about what university will offer them, and universities are continuing to work hard to provide prospective students with more information about what they can expect from their courses.
"Universities UK's Student Funding Panel is currently reviewing the current fees and loan system in England and one of the priorities for the panel will be assessing value for money for students. The panel will report its findings in spring 2015."
A spokeswoman for the Department for Business, Innovation and Skills said: "This report shows the majority of students believe their courses represent good value for money and deliver high satisfaction levels.
"It also proves our higher education reforms have delivered more choice and improved access. We now have more 18-year-olds in higher education than ever before, especially from disadvantaged backgrounds.
"Students are right to be demanding more from universities and we encourage all universities to regularly review their student feedback to identify where improvements can be made."
Popular in the Community