At first glance, the Facebook page 'The Lions of Rojava' seems to be just one of thousands that has sprung up to support the Kurdish efforts against Islamic State in Syria.
But the images of the men in combat fatigues and holding rifles are not of locals. They are Westerners, for the most part white and non-Muslim, and many of them with military experience, who are volunteering to fight with the Kurdish YPG (People's Protection Units) forces in Rojava, the Kurdish name for the northeastern Kurdish territory in Syria.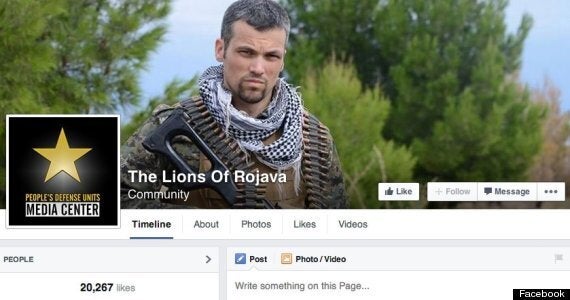 The Facebook page recruiting fighters for the Kurdish forces
Jordan Matson, the organiser of the group
At least two of them are British, James Hughes from Reading is a British Army veteran,.
The other is Jamie Read, from Newmains in Lanarkshire, whose Facebook page says he trained with the French army. The group confirmed, when contacted by the Huffington Post UK, that the pair were in Rojava, but said they could not be interviewed unless a journalist travelled to the area.
Read posted on his own page earlier this month: "Well boys and girls.... It looks like all the hard work has payed off I got my good news, most of you know what i'm doing for those that don't you will have to wait haha can't really say on here but all I can say is this time next week i will be living the dream." Pictures appear to show he is now in Syria.
Graham Penrose, who is liaising between the ex-soldiers and their loved ones in the UK, said he was appalled that the fighters had been described by Sunday papers as "mercenaries".
"Their motivations are based on seeing what are taking place, and most recently in Kobani, the lack of the assistance that the Kurds in particular have received," he told Sky News.
"They are not being paid, they are receiving no payment, there is no payment in kind. They are not participating for any commercial gain. They are to help people in need of help, I personally feel they deserve a lot better than having them described as mercenaries."
The page is run by US fighter Jordan Matson from Wisconsin, but he is one of several on the page actively encouraging recruits, with promises of resources and help with travel arrangements.
It has a Skype address so would-be recruits can get in touch faster. And dozens of people every day are getting in touch to ask to join - according to organisers.
The Facebook page also contains a 12-minute "how-to" YouTube video hosted by an organiser know as "Krystal", who explains how to join up, through liaising with Matson. Advice includes getting visas for the area, and warning people to be wary of fake accounts.
"I asked 'God, is this really where you want me to go?'" Matson told the broadcaster via Skype. "Our government kept saying it was an Iraqi problem for over a year when this was occurring, and this was spreading, and I just had enough of it. I decided If my government wasn't going to do anything, I was."
Matson said he took some clothes, boots and a toothbrush, and set off to meet some Kurdish fighters he found on Facebook.
His pictures on Facebook show his life in the region, including injuries from being hit by a mortar. "We have men from Europe and Eastern Europe. We got guys from Australia, parts of Africa. It's all over the place," Matson said.
He claims to have set up "The Lions of Rojava" as a way to field the volume of enquiries from foreign would-be fighters wanting to join the Kurdish forces.
Matson has been in a Facebook conversation with Read, saying: "I was with 'The Beard' for his cherry being popped at being shot at. It was interesting. Its always interesting the first time you have a bullet fly past your head."
Read replied: "Cheers bro would be lost with out you."
Many people have contacted the page via its Facebook wall asking how to come out and fight. One posted: "Hi I'm an infantryman from arizona. How do I take steps to go to syria to go fight again. I've already been to Afghanistan twice. Someone please message me about how the process is to g ok fight the enemy again."
Many have posted personal details on the site's page, but organisers have begun encouraging them to conduct their communications in private.
On the page, many draw comparisons with the International Brigade of fighters, many from Britain, who travelled to fight the fascists in the Spanish Civil War, famously described in George Orwell's Homage to Catalonia.
No Surrender's president, Klaas Otto, told Dutch TV station NOS that three members from Amsterdam, Rotterdam and Breda were currently in Northern Iraq.
A Home Office spokesperson told HuffPost UK that it advises against all travel to Syria and parts of Iraq.
"Even people travelling for well-intentioned humanitarian reasons are exposing themselves to serious risk," she said. "The best way to help the people of these countries is to donate to registered charities that have ongoing relief operations."
Related