Work has got under way to start dismantling the part of Eastbourne Pier left devastated by a fire during the summer. A team of experts using cutting torches were hoisted into position to begin slicing through the steel carcass of the dome-shaped amusement arcade at the front of the Victorian pier. The section, once home to banks of fruit machines, ride-on toys and grabbers, bore the brunt of the fire which left it a scorched shell on July 30. Demolition work of the arcade is expected to take eight weeks, but the front of the Grade II*-listed pier will remain open during that time, while the end of it will be off limits while cranes operate.
The fire on the 144-year-old, 1,000ft-long attraction came at the worst possible time for traders in the East Sussex resort, at the height of the all-important summer tourist season. Traders, some of whom did not have insurance, were told their rent would be waived until the end of the season, and a discount offered on their 2015/16 fees. Up to 80 firefighters tackled the inferno on the attraction, which happened in broad daylight but mercifully resulted in no-one being injured. It was initially suspected that an electrical fault could have caused the blaze on the privately-owned pier, which is run by Cuerden Leisure.
But Sussex Police later said they were treating the fire as "suspicious", leading to the possibility arsonists may have been responsible. No arrests have so far been made. The people of East Sussex have witnessed the devastation of some of their beloved piers before. In 2003, the 148-year-old West Pier in Brighton was reduced to a mangled mass of metal by two major blazes within two months.
And in Eastbourne's neighbouring resort of Hastings, the Grade II-listed pier there was almost destroyed in a fire in 2010 following years of neglect by its then-Panama-registered owner. Efforts are now well under way to restoring Hastings Pier by next summer after more than £13 million was secured mainly though the Heritage Lottery Fund. Prime Minister David Cameron and Chancellor George Osborne visited Eastbourne in the fire's aftermath to see the damage as Downing Street pledged up to £2 million to help the town's tourism industry recover from the pier's loss.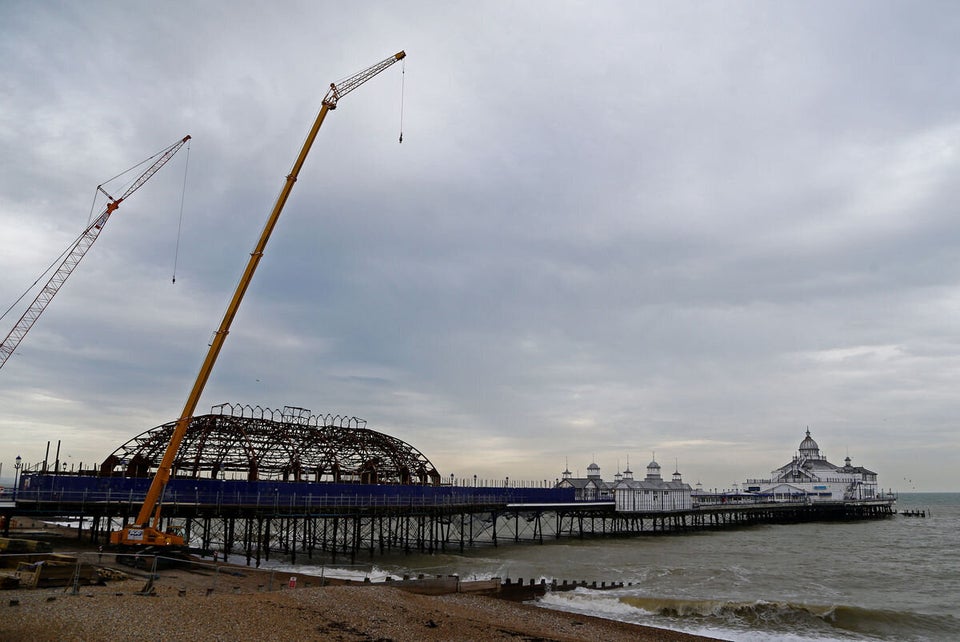 Eastbourne Pier Demolition