Hot, hot, hot, is the verdict of Chris Pratt's most ardent fans, of which there are plenty.
And they'll be getting their fill of his hotness with his position at the helm of not one but three big-budget enterprises currently exercising the brows of Hollywood execs – space epic 'Guardians of the Galaxy', the forthcoming 'Jurassic World' dinosaur reboot, and that's not to forget his vocal additions to the surprise phenomenon of 'The Lego Movie'.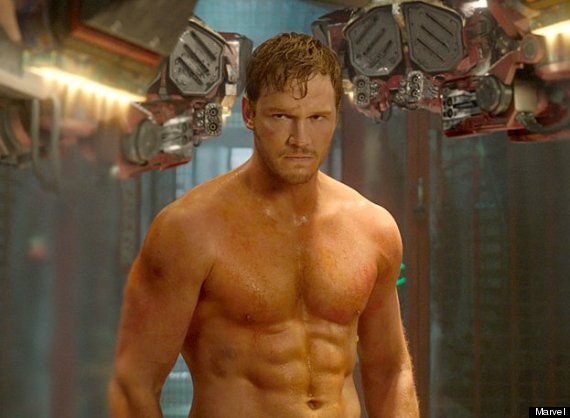 Chris Pratt in 'Guardians of the Galaxy' - what DO fans see in him?
The overnight release of the first 'Jurassic World' trailer has only confirmed what we guessed to be true – that Chris Pratt has, in six short years, gone from TV favourite to big screen hero able to keep it real even surrounded by special effects and fantastical storylines, both on earth and beyond.
So where did he come from and what's behind his extraordinary appeal to studio execs and fans alike?
Chris Pratt, still only 25, was first spotted and appreciated by keen-eyed viewers in the fourth season of 'The O.C.' where he started practising stealing scenes as activist Che Cook. Chris Pratt as loveable Andy in 'Parks and Recreation'
Big screen success did not come calling for a while, though, and he calls his failed audition for James Cameron's 'Avatar' one of the most humbling experiences of his life. 'Star Trek' did not fall his way, either, and he admits he started resigning himself to taking character roles to keep his career going.
But the hands of the studio gods had other plans. What was meant to be a temporary role as loveable fool Andy Dwyer in 'Parks and Recreation' turned into a full-time gig, where his performance has drawn praise for its comic timing, delivery and physicality. Roles in Aaron Sorkin's 'Moneyball' and Kathryn Bigelow's 'Zero Dark Thirty' further proved his versatility.
And suddenly a star was born. His star power was cemented with his lead role in 'Guardians of the Galaxy' where, as half-human, half-alien leader Peter Quill, he stole the screen from such established stars as Bradley Cooper, Benicio Del Toro and even Vin Diesel.
Fans of the film are in no doubt where their interest lies in this film, with a staggering 74% of all mentions on social media centring on Chris, rather than his A-list co-stars, over the past month. In fact, he's garnered 10 times more than the second most popular cast member, Bradley Cooper – not bad for a film that's become the most popular superhero film of the year with a $770million box office booty.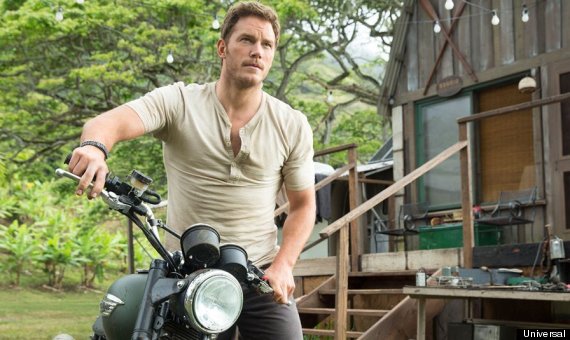 Chris Pratt stars in 'Jurassic World' - a much-anticipated reboot
And now, 'Jurassic World' has come calling, Ron Howard's reboot of the series that Chris calls his "very own Star Wars". In this multi-million dollar outing, Chris is set to play Owen, a member of Jurassic World's on-site staff, who conducts behavioural research on those Velociraptors we love and fear in equal measure. No surprises when things go awry, as the research team accidentally unleashes a genetically-modified hybrid dinosaur into the park
So, what is it about this young actor who once said he'd do anything on screen as long as it didn't mean working in a restaurant?
His fans don't hold back, shining a light on his changed appearance since the early days of 'Parks and Recreation'.
"It just goes to show you how the extra weight can really change you appearance. From going from average joe that no one would look twice at to being super hunk..." says one.
"Wow, how weight loss could transform all of us," says another.
In 2014, Pratt was ranked as #2 on People magazine's annual list of Sexiest Men Alive, something appreciated by at least one frank fan – Thomas, who tells us the only thing Chris Pratt is missing – "The internet needs more shirtless photos of him."
'Guardians of the Galaxy' is available now on Virgin Movies. All TV trends data referred to in this article has been supplied by Virgin Media, which provides access to up to 260+ channels including Freeview Channels, Virgin Movies, Sky Movies and Netflix.
LIKE US ON FACEBOOK | FOLLOW US ON TWITTER