Since we spend endless hours in front of our computer screens, the least we can do is invest in the best possible image quality out there. And since a picture is worth a thousand words, LG's new 34-inch 21:9 Curved UltraWide Monitor, with stunning QHD resolution for an ultra-sharp, professional-grade display, is worth a thousand pictures.
The 34UC97 provides a consolidated two-monitor space in one screen (it offers more screen space than two 16:9 full HD resolution monitors put together) and the 21:9 display doesn't compromise on colour quality: it features an sRGB over 99% and IPS to help prevent any colour inconsistency or distortion on the corners.
The innovative curved shape of the screen offers an immersive viewing experienced with impressive depth to make everything from movie-watching to video-gaming more enjoyable.
Fully compatible with any Mac, the monitor includes two Thunderbolt™ 2 slots to connect to a Mac directly, ridding the risk of monitor damage from using an extra connector and allowing for you to daisy-chain data storage devices through the monitor.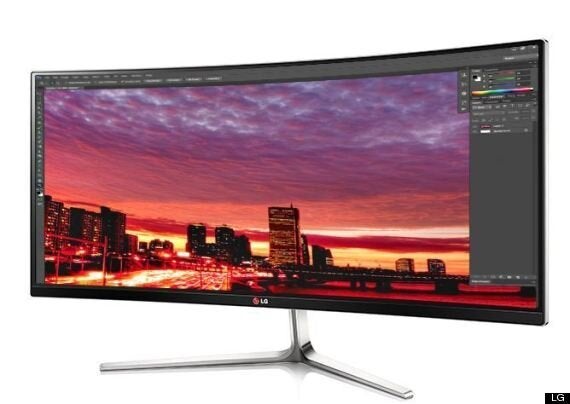 Thanks to 34UC97's multi-port, which allows you to centralise the connection on the table and hook up camera, scanner or speakers at the centre back of the monitor, you can avoid a tangle of wires and cables and keep your workspace organised and tidy.
"More and more we realised curved display was a whole lot more than just a different shape and technological show-off. The features and design considerations that were put into 34UC97 had a multitude of useful functions and professionals were hoping
to have them fused in a coherent manner," says one of the actors and media professionals starring in LG's 34UC97 film, which sees the monitor's collaborative potential at its fullest when it culminates in a panoramic action scene in a 360 degree circular viewing space.
"Screen real estate, stunning color expression, viewing immersion and connection hub - all these were rolled up in one display. Felt like this was pretty much the jackpot as far as ideal display is concerned."
While both enthusiasts and creative professionals will enjoy the 34UC97, media professionals will find that it not only provides great visuals, it simplifies the creative process.
Photographers who need their ideal monitor to multi-task between selected photos and doing edits simultaneously without being distracted by glare will appreciate the time-efficiency of having the 34UC97 as part of their workstation, while connecting a Mac directly eliminates resolution damage. A futuristic input device control function even allows you to view photos from your DSLR without having to connect the camera to your console PC.
For music composers worried about how to fit all of their equipment into a limited space, the 34UC97's handy multi-port design with two HDMI, two USB 3.0 ports and a Displayport make hooking up synthesizer, master keyboard and monitoring speaker a centralised - and simplified - affair.
What about video producers tired of wasting time while clips transfer from data storage to computer? Simply daisy-chaining your Pegasus2 to the 34UC97 and then to your Mac allows for a data transfer speed of up to 20Gbps - four times faster than a USB 3.0.
And gamers looking for that edge over the competition and seeking improvements with input lag, blur, blind spot, or visibility issues in the dark scenes from their monitor will love the 34UC97's performance-enhancing features.
The sleek design of the 34UC97 - thin bezel, Champagne back, hard anti-glare coating - is designed to strengthen the feel of reality, while 7W stereo speaker and MAXXAUDIO® sound solution generate explosive sound effects. Thanks to a Flicker Safe function, gamers don't even need to worry about any eye strain.
With the right curve, right wideness of the view, right expansion, and right anti-glare IPS panel, the 34UC97 offers clear, sharp images and top performance. See for yourself...