Passengers gamely left their seats and pushed their aircraft across the tarmac after its brake pads froze solid.
The bizarre incident unfolded on Tuesday as the plane waited to leave Igarka airport, where the air temperature had dropped to minus 52 degrees, RIA Novosti reported.
Fearing they would be delayed, the majority of the 70 workers on board used brute strength to shift the 30-ton Tupolev 134 from where it had frozen to the ground, the Siberian Times writes.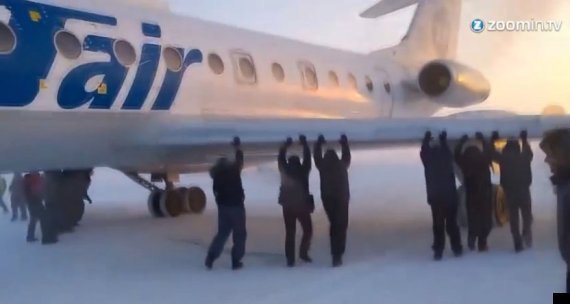 Come on, push! The passengers get out and get the plane going
The aircraft had spent 24 hours stationary on the tarmac, causing it to freeze in the parking position.
One man can be heard shouting: "Come on, push!" while another is recorded saying: "Real men can plant a tree, build a house and push a plane."
The Katekavia airlines plane later took off and landed safely in the city of Krasnoyarsk with minimal delay.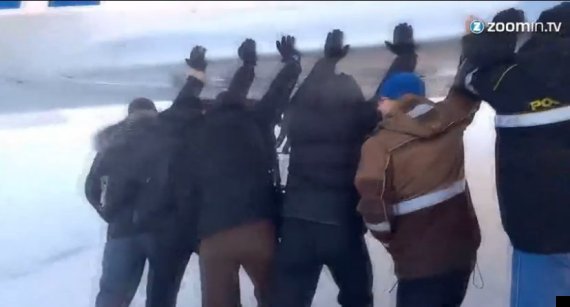 'Real men can plant a tree, built a house and push a plane'
Daily Russian newspaper Komsomolskaya Pravda praised the passengers for their teamwork, writing: "Siberians are so tough that for them pushing a frozen plane along a runway is a piece of cake."
The BBC points out the average low temperature for Igarka is closer to minus 30 degrees, making this an exceptionally chilly winter for the town, which lies 100 miles north of the Arctic Circle.
Nice one, lads.