Brian May's heart is full of rediscovered Queen music, with the album 'Forever' showcasing the band's tunes in their most raw, intimate form - and it turns out there's one song on the list that means even more than the others, the previously unheard 'Let Me In Your Heart Again'.
"I love it because it is so real," Brian tells HuffPostUK. "It was so close to being completed in 1980 but we didn't realise it. When we first put the old multitracks up on the old analogue machines at the beginning of this year I was blown away by the energy and freshness of the recordings. We were instinctively playing very much as a unit too - very tight, even though the song was still in development.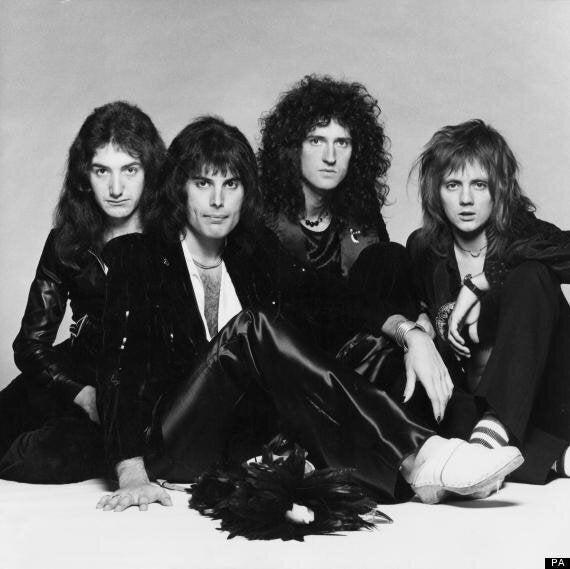 Brian May is overjoyed that an old Queen track has finally made it from the vaults to their fans' ears
"Because of doubts about the key and the structure we had put it aside on a shelf - but with the benefit of hindsight We were able to solve these problems - and the song clicked together like magic. I wrote the song, and of course very mindful that Freddie was to sing it. He delivered a blistering performance - and it makes me happy that the song and the performance ate now out there for all to enjoy."
If Brian's heart is full, his mind is buzzing with one of his many passions, and this week it's all about Diableries - a 19th-century phenomenon of visionary landscapes of hell, meant to be viewed on cards in 3D via stereoscopes, which had become a phenomenon in France at the time. Strange, but true.
Now Brian and his co-authors Denis Pellerin and Paula Fleming have created a book celebrating this almost lost art, and taken it back home to Paris, to pay tribute to one of its founding influences.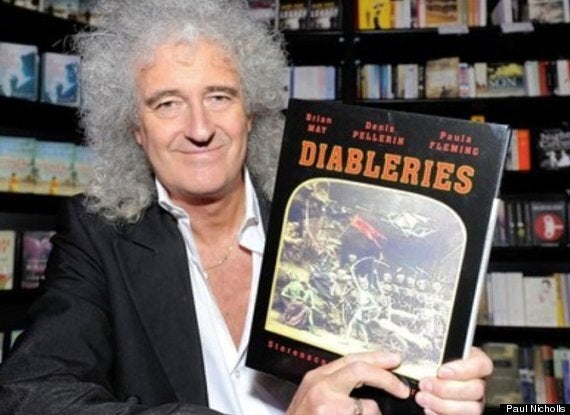 Just in case he was thinking of having a day off... Brian May with one of his many passions, his book on Diableries celebrating this 19th century French craft
"Here we are, authors of the first definitive book on the Diableries phenomenon, visiting the Belleville cemetery in Paris today, to pay homage to one of the two creators of these wonderful stereoscopic cards from the 1860s," is how Brian explains it. "The sculptor Adolphe Hennetier - buried there in 1888."
This is no short burst of enthusiasm for Brian and co. The three of them have been collecting rare Diableries stereocards and pieces of information about them for an astounding three decades before writing this definitive account. The book has gone down well in the US and UK, and so they felt it was time to bring it home.
They launched the book in France on Tuesday in Paris's Hotel de Sully and, as with all aspects of this project, the venue was carefully researched and chosen.
Because this was the very building where the only known set of original negatives for these devilish 19th century stereo cards was recently re-discovered, having spent many years locked in a cellar, forgotten by the world. What must Brian have thought when he heard about this serendipitous moment? Hopefully, it's a kind of magic.
Diableries, by Brian May & Denis Pellerin, The London Stereoscopic Company, £40, a ghoulish gift for Christmas! Queen's album 'Forever' is available now. Tour info here.
Related