STRASBOURG – Europe must be prepared to make new compromises over Greek debt or risk the nation forfeiting its timid growth and spooking potential new investors, the president of the European Union has told The Huffington Post.
Speaking as negotiations stuttered to a halt in Paris between Greek leaders and heads of the so-called 'Troika' over whether Greece will be forced to accept harsh new austerity measures, Martin Schulz praised the huge strides the country had already taken.
"Greece has made enormous steps forward in the last two or three years, and that's why I hope there will be a compromise in our negotiations, that our growth package will be a relaunch step for the economy in Greece."
Warning much was at stake, Schultz hinted further concessions could be needed from the Troika, made up of the International Monetary Fund, the European Central Bank and the European Commission.
"The EU did a lot to save Greece," he said. "I was never in favour of the Troika. But the Troika was decided; now we have to live with it. Greece needed support. It had to make compromises. What we have to do in future is make compromises, perhaps other ones than we did in the past."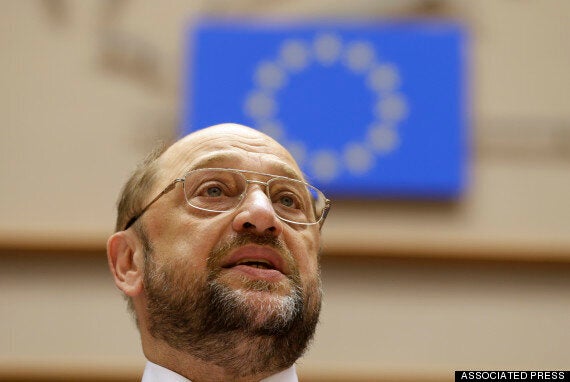 European Parliament President Martin Schulz
"Yes," Schulz agreed. "It is a daily experience. I make this appeal daily not only to my colleagues but also to myself.
"We know parents are prepared to make every sacrifice, if some institution says 'you must pay, but it is for your children'." He recalled the experience of his "post-war German" parents, who he said "invested everything because the country said 'it is for your children'."
"Now, what are my generation doing?" he said. "We are asking sacrifices from parents, for billions and billions and for what?
"For saving banks. And their children are unemployed.
"How can I expect that they have trust? How can we believe that they feel decently treated? I am quite clear people have lost trust."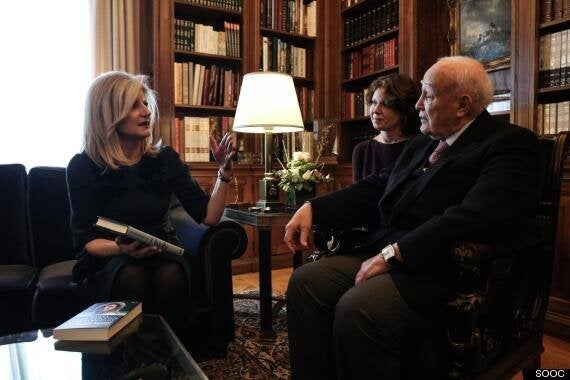 Arianna speaks with Greek President Karolos Papoulias last week
The disagreement hinges on Greece's 2015 budget, which its government claims will see the country only in minor deficit, just 0.2% of GDP, triggering an end to Troika-enforced austerity measures. But the Troika disagrees with the sums and demanded further cuts, claiming the deficit will be more like 3% of GDP.
On Thursday morning, after tense talks in the French capital, Athens acknowledged a likely delay in exiting the EU-IMF bailout package by its December 8th deadline, further prolonging the unpopular austerity measures which have led to mass unemployment, cuts to the public sector and are set to further affect pensions Tens of thousands of Greek workers promptly downed tools in 24-hour general strike called by the country's two largest trade unions.
But the delay in a compromise and Greece's pronouncements that it will not accept the Troika's demand that it make between €1.8 billion and €3.5 billion in additional cuts for 2015 have alarmed the markets, something Schulz said was also a concern. "What Greece needs is growth, and employment," he said. "It is suffering from lack of investment, like other crisis countries. We have to attract private investments, this is a question of trust.
"If investors don't trust in the reliability of a country and in the sustainability of the economic development, they don't invest."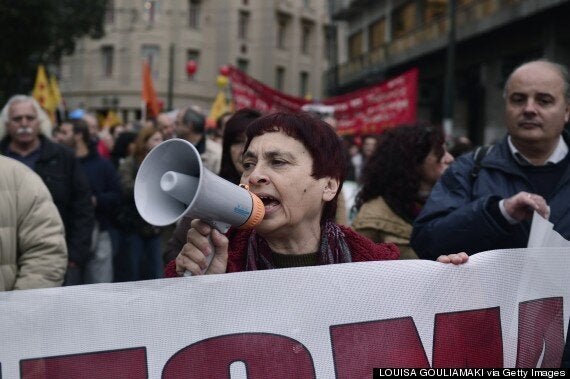 A woman chants slogans during a protest as part of a 24-hour general strike in Athens
Schulz said that he admired how Syrizia had transformed themselves from a protest group to a party that has "really tried to develop a programme, which is not my programme, but they tried to become more serious".
But he called the party "fundamentally negative" and said that they had no intention of being part of a sorely-needed compromise. "If you ask them, 'what is now the concrete solution and are you prepared to make a compromise?'...then?
"Because even they will not win an absolute majority, so we must ask them, where are your compromise lines? We get no answer."
Related