An Egyptian court on Saturday dismissed criminal charges against former president Hosni Mubarak for the killing of protesters in the 2011 uprising that ended his nearly three-decade reign.
Nearly 900 protesters were killed in the 18-day uprising that ended when Mubarak stepped down, handing over power to the military.
The trial, however, was concerned only with the killing of 239 protesters, whose names were cited in the charges sheet.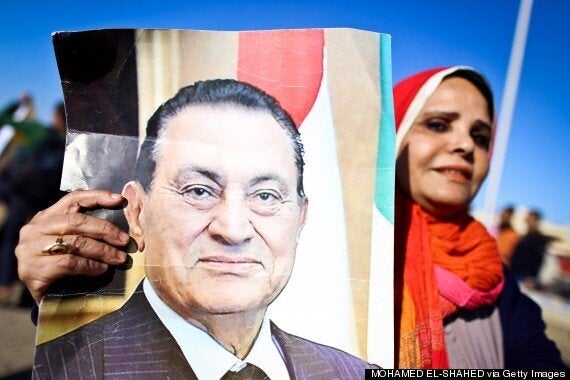 A supporter of Egypt's former president Hosni Mubarak (portrait) stands outside the police academy in Cairo during his trial
Presiding judge Mahmoud al-Rashidi made clear that the dismissal of the charges did not absolve Mubarak of the "corruption" and "weakness" of the latter years of his 29-year rule and praised the January 2011 uprising, saying that its goals — freedom, bread and social justice — were justified.
Mubarak, 86, was also acquitted of corruption charges that he faced along with his sons Alaa and Gamal.
Mubarak was convicted and sentenced to life in prison in 2012, but the verdict was overturned on appeal the following year.
Saturday's verdict concludes his retrial along with his two sons, his security chief and six top security commanders, who were all acquitted.
Also on trial was businessman Hussein Salem, a longtime Mubarak friend tried in absentia. He too was acquitted.
Related