It's been a catastrophic year for Malaysia Airlines, which suffered the twin tragedies of losing flights MH17 and MH370.
Now the beleaguered airline has had to issue a grovelling apology after posting a tweet sparked outrage for inadvertently drawing parallels to the still-missing MH370 flight.
The ill thought-out post read: "Want to go somewhere, but don't know where? Our Year-End Specials might just help!"
Critics slammed the stricken company's wording, branding it "insensitive."
Air officials are continuing to search for the missing passenger jet that vanished without a trace in March with 239 passengers on board, including New Zealander Paul Weeks.
His wife Danica said the promotion was "atrocious".
The airline company, which has since deleted the tweet, said its promotion was meant to inspire travellers but "unintentionally caused offence to some".
It was not the first faux pas for the airline since the disasters. In September, it scrapped the title of a competition asking people what activities and destinations are on their "bucket list."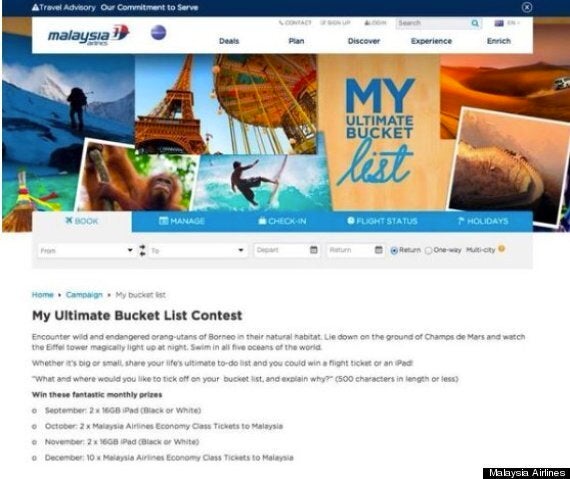 In its last public financial result before a planned privatisation and overhaul, the flag carrier said its net loss in the July-September quarter rose 53 percent from a year earlier to 576.1 million ringgit ($170.3 million).
The airline's business has suffered after the disappearance of MH370 and after another Malaysia Airlines jet was shot down over Ukraine, killing all 298 people on board in July.
As the airline's overhaul gathers pace, it said Friday it will continue to focus on building revenue through aggressive marketing and promotions, and better capacity management.
The airline said its quarterly revenue fell 12 percent from a year earlier to 3.33 billion ringgit amid poor market sentiment due to the double whammy of the disasters and intensified competition.
Declining fuel prices have helped stem losses but the airline said it continues to struggle as business in some markets, especially China, remains challenging.
The airline will be delisted and taken completely under the wing of the government by the end of the year under a billion dollar overhaul by majority shareholder, state investment arm Khazanah Nasional.
Under the revamp, Malaysia Airlines will cut 6,000 workers, which is 30 percent of its current workforce of 20,000.
Khazanah aims to restore Malaysia Airlines to profitability by the end of 2017 and then relist its shares on the stock exchange by the end of 2019.
Related