Phillip Hughes, the Australian cricketer who died tragically this week after being hit by a ball, will remain "forever 63 not out" after the scorecard for his final match was officially amended.
Hughes was taken to hospital on Tuesday after being hit in the back of the head with a ball, despite wearing a helmet, and passed away two days later, prompting shock and grief around the world.
He had been listed as "retired hurt" on the scorecard for his final match, but Australia's sporting body Cricket Australia has adjusted the scorecard to read "63 not out" to reflect that Hughes will never be out.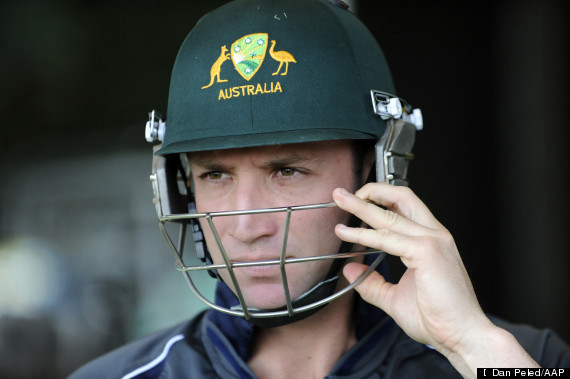 Phil Hughes was just 25 and had also played for UK teams Hampshire, Middlesex and Worcestershire
The symbolic change reflects the words of tribute posted by thousands online, saying that the 25-year-old batsman would remain "forever 63 not out".
The change can be made because the match was stopped after his injury, and he was not replaced by another batsman.
"It might seem like a little thing, but it's an important distinction," Cricket Australia chief executive James Sutherland said on its website cricket.com.au. "Phillip will forever remain 63 not out."

The adjusted scorecard
Sunday 30th November would have been Hughes's 26th birthday.
Fans and sports clubs around the world continued to honour him by placing cricket bats, rugby balls and hockey sticks outside on fields and pitches as a sign of respect, posting photos with the hashtag #PutYourBatsOut.
Bristol Rugby will remember Phil Hughes at Ashton Gate. #putyourbatsout pic.twitter.com/vtIPDK700l

— Bristol Rugby (@Bristol_RFC) November 30, 2014
Mine and Kelham's tribute to the late Phil Hughes. RIP #putoutyourbats #63notout pic.twitter.com/wz0OFk9D2A

— Paul Elliott (@pjelliott1971) November 30, 2014
After a good hard match vs @ExeterUniHC a mark of respect to Phil Hughes #rip #63notout #putyoursticksout pic.twitter.com/4GQUvE6n1B

— UOBHC (@UOBHC) November 30, 2014
ACTION: Both teams mark the loss of Phil Hughes - #IRISHvGLOS pic.twitter.com/yCc3LRCWXp

— Gloucester Rugby (@gloucesterrugby) November 30, 2014
Happy birthday Phil Hughes. Taken too early playing the game you loved. #putoutyourbats pic.twitter.com/UXPtMIIQ3Z

— Gordon Laidlaw (@laidlawg) November 30, 2014
Tribute to Phil Hughes at old Trafford 👍#63notout pic.twitter.com/3eZwTWQnV7

— Mahela Jayawardena (@MahelaJay) November 30, 2014
SEE ALSO:

Michael Clarke Wins Praise For Incredibly Brave Statement About 'Little Brother' Phil Hughes

Cricket World Rallies Around Distraught Bowler Sean Abbott After Phil Hughes' Death