NASA has been forced to postpone the first launch of the Orion space craft, humanity's ticket to Mars.
The unmanned test capsule was due to blast off atop a Delta IV heavy rocket from Cape Canaveral in Florida.
The craft will eventually be used to take humans to the Moon, Mars and even asteroids, as part of larger vehicles for which it will form the cockpit and crew transfer module.
The test on Thursday would have seen the craft take one orbit around Earth, before ascending into the 'Van Allen' radiation belt 3,600 miles above the planet.
NASA had then hoped to test the capsule's heat shields and reentry systems, before scooping the craft out of the Pacific Ocean.
But after a frustrating morning, involving several last-minute aborts, the mission was postponed until Friday.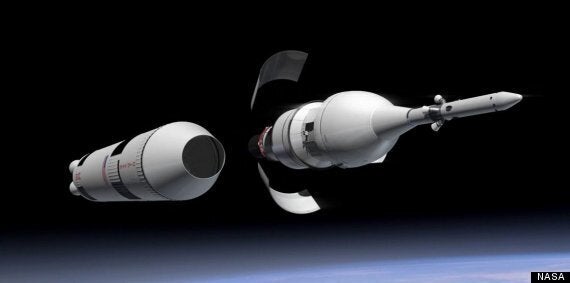 Several times NASA came close to launching Orion, but decided to cancel because of various problems. The first launch was halted because a boat was too close to the landing site. A second and third attempt faced problems with high winds on the ground - despite witnesses reporting close to no breeze on the Florida air.
A fourth countdown was halted because of a problem with a fuel valve, but attempts to fix the issue from mission control failed and the launch team ran out of time.