When this heavily pregnant woman was passing by an Abort67 demonstration showing graphic photographs of aborted fetuses outside a London clinic, she did not mince her words.
The young woman was walking past a practice in Southwark, south London, which offers abortions as well as help for mothers and babies, when she saw four demonstrators having a disagreement with a member of staff because one protester was wearing a camera.
The filmed scene was first promoted by journalist Sunny Hundal, who has written previously on the protests outside the clinic by the group.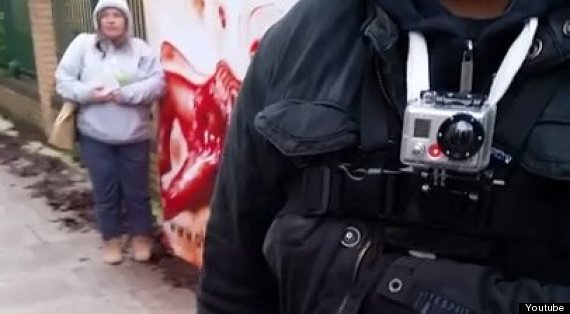 This man said he was not filming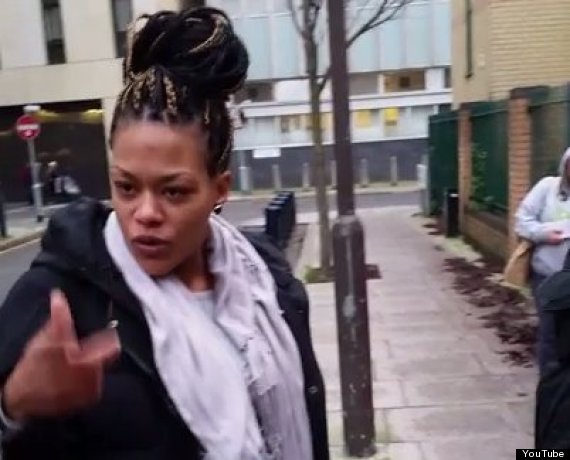 This woman is having none of it
The male protester, wearing a small white camera round his neck which has a flashing red light, denies he is filming women entering the clinic, while a female protester wearing a white fur hat defends him, and claims the filming is to prevent "false" claims of harassment from the British Pregnancy Advisory Service (BPAS).
But the woman, with her braided hair pulled up in a bun, soon interjects, with epic fury, saying she had heard the man being told to switch his camera off by a fellow protesters.
"I agree with what they're saying, it's wrong what you're doing," she says. "You don't know why people's are doing what they're doing.
"Many people have been abused, you don't know what their reasons [are]," she continues. "This is just so wrong on so many levels."
The women said she vehemently objected to the posters' graphic nature because of the clinic's proximity to the charity Kids Company, of which she is a member. The charity supports vulnerable inner-city children and young adults from the most deprived and at-risk backgrounds, and was founded in 1996 by Camila Batmanghelidjh.
"We're helping thousands and thousands of kids, while you're out here," she says, "You ain't done your research where you are, where you're located.
"This is the wrong place to be located, when we have our people, who are going through their shit, coming to us at Kids Company and we're meant to help," she says, adding that some of the girls who the charity works with "have been abused, molested".
"Making women feel guilty is so wrong, so fucking wrong," she concludes, before turning her back on the group.
A spokeswoman for Kids Company told The Huffington Post UK they were extremely proud of the woman but said she did not want to be identified further or speak to the media.
But the young woman has been hailed as a hero on social media.
Hero of the year - pregnant woman kicks anti-abortion campaigner ass outside a BPAS clinic. Just brilliant. https://t.co/wvwX5XAHub#women

— Alexandra Topping (@LexyTopping) December 4, 2014
Very concerned that anti-abortion protesters still harassing women outside @bpas1968 Southwark. Filming without permission, graphic images

— Radha_Burgess (@Radha_Burgess) December 4, 2014
@caitlinmoran She's brilliant. I think we should make her Minister for Women. I'm sure she'd be better than Nicky Morgan.

— Graham Arden (@trigfa) December 4, 2014
@caitlinmoran I'm thinking there must be something we can put her in charge of. I would totally do whatever she told me

— Claire Phipps (@Claire_Phipps) December 4, 2014
If I needed anything to confirm supporting the @bpas1968#BackOff campaign was a good thing, that video would be it.

— NeutrinoJones (@NeutrinoJones) December 3, 2014
Times columnist Caitlin Moran suggested that those who appreciated the woman's defence of abortion rights donate to Kids Company
If anyone knows who that woman is, I would like to send her a massive bunch of flowers signed "Love from women."

— Caitlin Moran (@caitlinmoran) December 4, 2014
Lot of people suggesting that those who admire the anti-abortionist-bollocking woman donate to @KidsCompanyUK, where she works. DONE.

— Caitlin Moran (@caitlinmoran) December 4, 2014
Actually this is perfect - Kids Co's Xmas Appeal has, shamingly, only hit 24% of its target. Donate here: http://t.co/NvBhX4EOiM

— Caitlin Moran (@caitlinmoran) December 4, 2014
The protest group meanwhile, have accused the woman of being a "stooge".
BPAS is currently running a campaign to ask the government to create buffer zones around abortion clinics to protect women from intimidation. Such laws exist in other countries, like the US where protests have been known to turn violent, but not in the UK.