2014 is likely to be the hottest year on record both globally and for the UK, experts have said, but that does not rule out the possibility of a white Christmas.
UK average temperatures from the beginning of January to late November were 1.6C (2.9F) above the long-term average, making it the warmest in records dating back to 1910, the Met Office said - although a cold December could change that.
The year is also set to be one of the warmest on record in the Central England Temperature, which has recorded temperatures in an area of England since 1659 and is the longest-running record of instrumental temperature measurements in the world.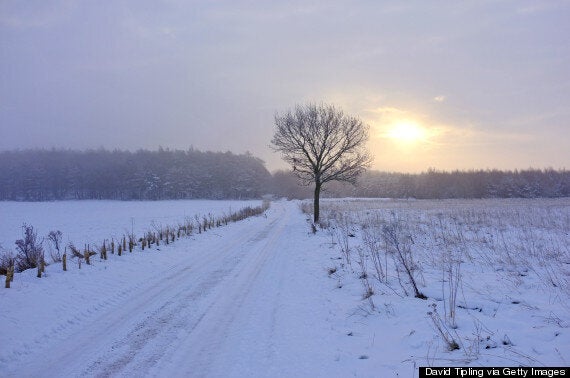 Snow covered lane near Houghton
The announcement comes as the UK experiences colder conditions, with night-time temperatures falling to minus 5C (23F) in some places and some snow expected on high ground this weekend, but the Met Office said the weather was around average for early December.
But bookies this week cut the odds of a White Christmas, and put them at a 3/1 of snow in Aberdeen, and odds of 5/1 in London.
Across the world, the year is on track to be one of the hottest, with global temperatures around 0.57C (1.03F) above the long-term average of 14C (57.2F) from January to October, just ahead of the previous record of 0.56C.
If November and December follow suit, 2014 is likely to be the hottest year on record, ahead of 2010, 2005 and 1998, the World Meteorological Organisation (WMO) has announced.
The experts have attributed the hot year largely to record high global sea surface temperatures, which have also contributed to exceptionally heavy rainfall and floods in many countries and extreme drought in others.
While the Met Office cautioned against reading too much into a record hot year, new research suggests that breaking the record is much more likely to occur as a result of human activity which affects the climate, such as burning fossil fuels.
Peter Stott, head of climate attribution at the Met Office, said: "Our research shows current global average temperatures are highly unlikely in a world without human influence on the climate.
"Human influence has also made breaking the UK temperature record about 10 times more likely."
This year has been extremely wet for the UK, with 1,162mm (45.7 inches) falling between January 1 and November 25.
With average rainfall in December, 2014 would be the fourth wettest in records dating back to 1910, but a very wet last month of the year could see it breaking the record set in 2000 of 1,337mm (52.6 inches).
Experts said the global figures, announced as countries meet for UN talks in Lima, Peru, to discuss action to tackle climate change, showed an "underlying warming trend", challenging claims by climate sceptics that global warming had stopped.
WMO secretary-general Michel Jarraud said: "The provisional information for 2014 means that 14 of the 15 warmest years on record have all occurred in the 21st century. There is no standstill in global warming.
"What we saw in 2014 is consistent with what we expect from a changing climate: record-breaking heat combined with torrential rainfall and floods destroyed livelihoods and ruined lives."
Professor William Collins, professor of meteorology at the University of Reading, said: "The likely record warm temperatures this year add to the evidence that global warming is continuing its inevitable upward trend, and that we were right not to be lulled into a false sense of security by the slower warming of the last 15 years."
Energy and Climate Change Secretary Ed Davey said: "More record warm temperatures in the UK and across the world are yet more evidence that we need to act urgently to prevent dangerous climate change.
"UK actions such as our doubling of renewable electricity and our stretching targets for cutting carbon are a good start but we must be frank and acknowledge there is more to do."
He said the whole world needed to act, and success in building momentum at the Lima talks towards a global climate deal which it is hoped can be agreed in Paris next year is critical to stop temperatures rising to "dangerous" levels.
WWF UK chief executive David Nussbaum said: "With countries meeting in Lima to lay the foundations for a climate deal to be agreed in Paris next year, this is yet another reminder of how our global climate is already changing.
"The UK has already seen increased flooding and other extreme weather events over recent years. Further climate change increases the likelihood of more of these in the UK and across the world. We need leaders to turn down the heat, by turning up their leadership on climate."