Coldplay's Chris Martin appears to have hinted that his band's decade-spanning career could be coming to an end, stating that he's treating their upcoming album as the "last".
During an interview on Zane Lowe's Radio 1 show, the singer made the admission, leaving fans questioning whether the group could be consciously disbanding.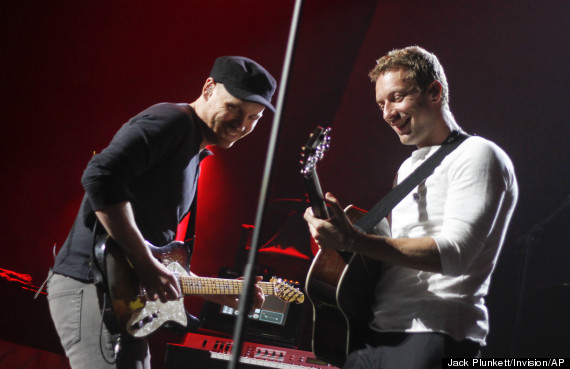 Coldplay's Chris Martin and Jonny Buckland
Yes, consciously disbanding. (See what we did there? Get it? OK, moving on…)
Speaking of the upcoming record, Chris stated: "It's our seventh thing, and the way we look at it. It's like the last 'Harry Potter' book or something like that.
"Not to say that there might not be another thing one day, but this is the completion of something."
The chat came following Zane's announcement that Coldplay's 'Magic' had been named the Hottest Record Of The Year by his listeners, and a number of fans took to Twitter to congratulate the band, though it appears many more didn't agree with the decision.
And they got voted hottest record with magic wow boys @coldplay 😊🎉

— SI∆N | #ForzaJules (@Sianpb2012) December 4, 2014
@zanelowe @coldplay is this some kind of unfunny joke...

— will rhys richards (@w_rhys_richards) December 4, 2014
@zanelowe @coldplay what even is this

— silla (@prressures) December 4, 2014
Coldplay's 'Magic' as #1 on Zane Lowe's hottest record of 2014. Really? The song is a four minute dull drone. And I bloody love Coldplay.

— Rob Lilley (@roblilley1) December 4, 2014
All in all, it's been a rather successful year for the band, and earlier this week it was revealed that they are the third most spotified act of 2014.
Coldplay's latest album was also a hit with fans and Chris pas previously admitted that he channelled "bad feelings" from his personal life into the album.
LIKE US ON FACEBOOK | FOLLOW US ON TWITTER